It is the 100th anniversary of Fenway Park. The Yankees and Red Sox will be wearing cool, old-school uniforms. But it is something that you can't see that makes the rivalry extra special.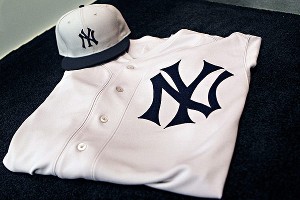 New York Yankees
These are the uniforms the Yankees will wear Friday in Boston for the 100th anniversary of Fenway Park.
"I love playing Boston because of the intensity," Russell Martin said. "It makes you forget about everything. It is just about winning games when you play them. I love that atmosphere. That is how it should be all the time. But when you play Boston, the only thing you care about is playing good baseball. So that is the mindset."
The intensity is what makes the Yankees-Red Sox rivalry so much fun. It is why Bobby Valentine, who may be hated more in Boston than he is in the Bronx right about now, adds to the festivities. Valentine's words and actions are a new chapter in the century of games at Fenway. The players care because they love the added energy, which starts with people like you, who read this blog.
"It starts with the fans," Martin said. "It has that playoff atmosphere."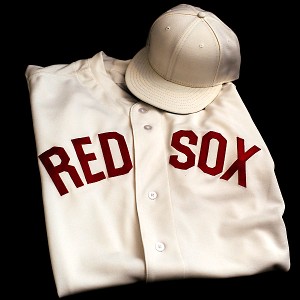 Boston Red Sox
These are the uniforms the Red Sox will wear.
Martin even went as far as to say last year that he hates the Red Sox.
"Do I still hate them?" Martin said. "I never really hated them. It made for good paper."
Valentine said the same thing at the Winter Meetings in the offseason. It made for good copy. Now, they play for the first time in 2012. Enjoy.
UP NOW: I detailed Curtis Granderson's night, the anti-Reggie's big night. Johnette Howard says the Red Sox are like the Boss' Yankees. The Binder took a loss in the first inning. Matt Ehalt goes into detail on Phil Hughes and Derek Jeter.
ON DECK: The pitching matchups for the weekend series are as follows: Friday, Ivan Nova (2-0, 4.15 ERA) vs. Clay Bucholz (1-0, 9.82); Saturday, Freddy Garcia (0-1, 6.97) vs. Felix Doubront (0-0, 5.40); Sunday, CC Sabathia (1-0, 5.59) vs. Daniel Bard (0-2, 4.63)
IN THE HOLE: We have you covered all day and night. At 9:40 a.m., I will post the most memorable moments from Yankees-Red Sox at Fenway. At 10:30, Joe Girardi will share his favorite moment from Fenway. Around 11, Mark Simon will have his What2Watch4.
Wallace Matthews and Ian O'Connor will be in Boston. I will be joining them for Saturday's and Sunday's games. Let me say it is great to have Wally back, and if you haven't read his touching column about his father, you should.
QUESTION OF THE DAY: Do you think the Yanks and Sox will be fighting it out for the AL East title come September?