Mark Teixeira is as reserved as a CPA, Nick Swisher as animated as a bobblehead. You could hardly find two more disparate personalities in the Yankees' clubhouse.
Saturday, the two of them combined to drive in 12 of the Yankees' runs in the 15-9 comeback win over the Red Sox. Teixeira got it started with a solo home run off starter Felix Doubront, the blow that may have convinced Bobby Valentine to pull his starter after six innings. But it was Swisher's seventh-inning grand slam into the Monster Seats in left that made it appear that a historic comeback could be in the works.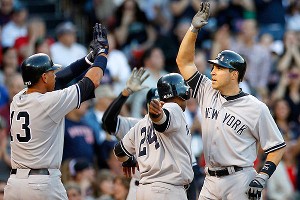 AP Photo/Michael Dwyer
Mark Teixeira had five RBIs on the season. He more than doubled that production on Saturday.
"I think that was the biggest one,'' Teixeira said. "When he hits that one, you say, 'OK, we still have four big innings here. Three big innings. We can do this.'"
Teixeira, whose homer against the left-handed Doubront came from the right side of the plate, followed with a three-run shot from the left side against Matt Albers in the seven-run seventh inning. It was the 13th time Teixeira has homered from both sides of the plate in the same game -- a feat that impressed his fellow switch-hitter, Nicky Two Guns.
"I'm so jealous. So jealous,'' Swisher said. "I think I've seen him do it five or six times now.''
Teixeira, ever humble, shrugged off Swisher's praise. "Hopefully, we'll have more of those two-sides-of-the-plate-home-runs in our careers. We're about the same age. So, we'll have a nice run the rest of our careers."
Both players' batting averages benefited greatly from the game -- Teixeira came in hitting .264 and left hitting .288, and Swisher went from .259 to .283 -- and Swisher is now tied with Matt Kemp for the major-league lead in RBI with 20.
And whatever their differences in personality, Swisher and Teixeira share one important trait -- an uncommon tenacity at the plate. In fact, that is a trait that seems to run throughout the Yankees lineup.
"It's such a deep lineup,'' Teixeira said. "We have a lot of professional hitters, we don't give away at-bats. We want to keep going out there and getting our hits and see what happens. You're not always going to come back from 9-0 but tonight was one of those special nights."