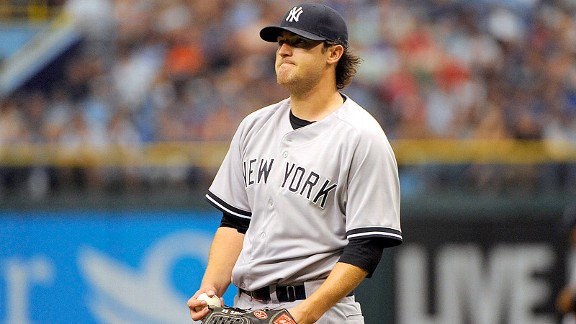 AP Photo/Brian Blanco
In three starts this season, Phil Hughes is 1-2 with a 6.75 ERA.The Yankees have a chance to win the series with the Texas Rangers, who have the best record in the AL, tonight, but in order for them to do that, they need Phil Hughes to pitch like it's spring training again.
Hughes, who suffered through a horrendous, injury-riddled and fastball-deprived 2011 season, had the best spring of any pitcher on the starting staff, CC Sabathia included. For the month of March, he looked like Philth Hughes, circa 2010.
But once the games became real, Hughes started to look like the Hughes of last year. In three starts, he is 1-2 with a 6.75 ERA. He got the win his last time out, but did not pitch well, allowing six runs in 5-1/3 innings to the Minnesota Twins. Lucky for him, and the Yankees, Curtis Granderson hit three home runs that night and the club pulled out a 7-6 win.
"This year, it hasn't gone exactly the way I would have liked thus far,'' Hughes said. "Sometimes it's just a change in atmosphere when the games start to mean something. It's just kind of everything is different and it's the way it is. Some guys have bad springs and come into the season pitching really well. I can't explain it. It's just the way it is. The first few starts just didn't happen the way I would have liked. Just bad pitch selection sometimes and a few mistakes here or there really kill you.''
An encouraging sign for Hughes is that not only has he never lost to the Texas Rangers (2-0) in the regular season, he has never even allowed a run by them in 15-1/3 innings. Wait, it only gets better. All three of his starts against Texas have happened here in Arlington, so if Hughes could draw up a scenario to cure his early-season woes, tonight's game would probably be it.
"I can't explain that either,'' he said. "It's warm here. That might help a bit, especially since it's early in the season. They're a pretty good lineup, so past success really doesn't mean anything. I just have to focus on what I can do tomorrow to put the best foot forward and give us a win going into the off day.''
(Not to be a downer, but you may recall that Hughes went 0-2 with an 11.42 ERA in two starts against the Rangers in the 2010 ALCS -- both games in Arlington.)
The Question: Did Hughes good spring restore your faith in him after his poor 2011 season? Or does he still have to show more to earn your trust?
Up now: My column on Yu Darvish, the pitcher the Yankees allowed to get away. Also, reaction in the blog from the Yankee hitters on what they saw, but couldn't hit, Tuesday night.
Coming soon: Mark Simon will have a What2Watch4 for tonight's series finale matching Hughes and RHP Scott Feldman later this morning. Katie Sharp will have This Week in Yankeemetrics later on. I'll be live chatting Yankees at 1 p.m., so be sure to drop in with your questions. And Andrew Marchand will be in Trenton tonight for Andy Pettitte's Double-A rehab start. He is expected to throw between 80-85 pitches.
Question No. 2: Do you think the Yankees should have signed Yu Darvish? Or do you understand Brian Cashman's reasons for taking a pass?
Quote of the night: From Robby Cano, when asked about what Darvish threw to Derek Jeter last night: "It don't matter what you throw Jeter. He's gonna get a hit anyway.''