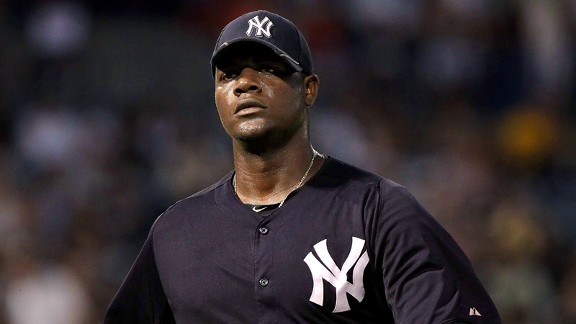 Kim Klement/US Presswire
Michael Pineda will miss the rest of the 2012 season with an anterior labral tear in his right shoulder.
WHAT IT MEANS: Michael Pineda is out for the year in what Yankees GM Brian Cashman described as a right shoulder anterior labrum tear. The Yankees think that Pineda could be pitching again a year from now. But who knows if he will bring the 95-plus heat that made him an All-Star in the first half of his rookie season.
THE FALLOUT: After the trade for the team's top hitting prospect, Jesus Montero, the Yankees thought Pineda would start the year as the No. 4 starter. They wanted to ease Pineda, just 23, into New York. Still, their hope was that Pineda would graduate to be a No. 2 or No. 1 type starter -- maybe as soon as this year. He showed that type of skill.
SHOULDERS AREN'T ELBOWS: The Yankees talked optimistically about Pineda returning and perhaps he will eventually become the starter they thought they were getting. However, in baseball, the elbow has become very fixable because of Tommy John surgery. The shoulder is a much tougher injury to overcome. Two recent examples are Chien-Ming Wang and Johan Santana. Santana did look good the other night after missing more than a season.
Now, it should be noted, the way the Yankees made it sound, Pineda's shoulder won't have to be cut so he may be able to recover more completely and easier than Wang or Santana.
HOPE FOR THE YANKEES: Down at Single-A Charleston, Jose Campos, the other pitcher they acquired, has looked tremendous. Still, he is only 19 and a long way from the majors.
DAMAGED GOODS?: Cashman says that Pineda wasn't damaged goods when the Yankees acquired him. Mariners GM Jack Zduriencik denied any knowledge of an injury.