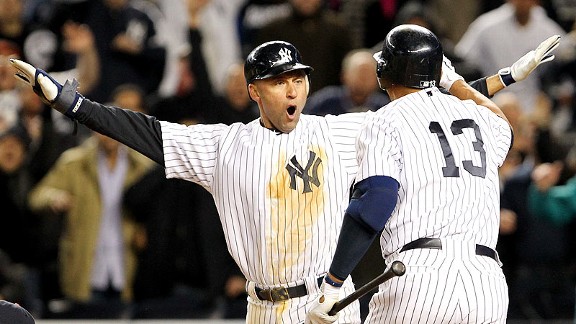 Anthony Gruppuso/US Presswire
"Safe!" Derek Jeter makes the call after scoring the winning run.Derek Jeter's 15-game hitting streak ended on Friday night, but The Captain still delivered.
Jeter, who went 0-for-4, walked with one out in the bottom of the ninth inning, went first to third on a wild pitch and scored the walk-off run on a passed ball as the Yankees came back to beat the Tigers 7-6 at the Stadium.
"He knows how to play the game, and he's been playing it for a long time," manager Joe Girardi said of his veteran shortstop.
Jeter never saw the ball scoot behind catcher Alex Avila, but Alex Rodriguez waved him home.
#2 SS
New York Yankees
2012 STATS
GM

19

HR4

RBI13

R15

OBP.429

AVG

.400
"I didn't see it," Jeter said. "I saw Al and went. It was a lot closer than it probably should've been."
"I felt like [third-base coach] Rob Thompson," A-Rod said.
Jeter, who has been in the majors full-time since 1996, couldn't remember if the Yankees had ever won on a walk-off passed ball during his career.
He deflected praise about his baserunning. But Girardi said Jeter peaked in as he was heading to second on a full-count pitch to Curtis Granderson, which allowed him to see Brayan Villarreal's wild pitch and advance to third.
"As much as everyone wants to say I was a great baserunner [Friday night], basically all I had to do was run," Jeter said. "But that's how you win games. Be aggressive."
It was the Yankees' first walk-off win of the season and first since June 16, 2011, against Texas.
• Ivan Nova wasn't very good (5.1 IP, 11 H, 6 ER), but the Yankees scored five runs (four earned) off of reigning AL Cy Young Award winner and MVP Justin Verlander, who had allowed just 12 runs (10 earned) in his first five starts this season.
• A-Rod homered off Verlander, singled twice and drove in two runs. He also scored the tying run on Mark Teixeira's sacrifice fly in the eighth. Rodriguez said he changed some of his hitting mechanics with Kevin Long, but wouldn't disclose what.
• The Yankees' bullpen combine to throw 3 2/3 scoreless innings in relief of Nova. Closer Mariano Rivera picked up his first win of the season. The pen has held opponents scoreless in seven of the last nine games.