If you were worrying about CC Sabathia, stop now. The rest of the rotation, well, that is to be continued.
Since around the third inning of his start against the Twins in the middle of the month, Sabathia has looked as if he were about to get on a roll. The command is better, the velocity is slowly rising and the results are improving. His record is up to 3-0. His ERA is down to 4.58.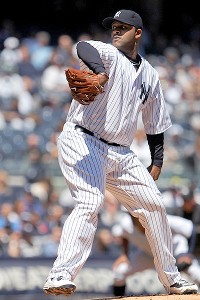 Brad Barr/US Presswire
CC Sabathia once again proved he's the Yankees' ace with a big start on Sunday.On Sunday, he beat one of the toughest lineups in baseball, the Tigers, in the Yankees' 6-2 victory. Sabathia had a typical line: eight innings, two runs (both earned), four hits, eight strikeouts and two walks. Sabathia has found his rhythm working with backup catcher Chris Stewart, whom Sabathia said he has not shaken off in two starts.
Sabathia has thrown 7⅓ innings, eight innings and eight innings in his past three starts, saving a bullpen that has been overworked because of the overall wretchedness of the Yankees' starters.
Now, the Yankees have to figure out what to do in the four days between Sabathia's starts. Hiroki Kuroda has had two good starts and two bad ones. He goes Monday against the Orioles. Phil Hughes has been awful. He says he will try to return to his "reliever mentality" from his first pitch on Tuesday. On Wednesday, Ivan Nova, who still never loses, will try to do better than the 11 hits in 5⅓ innings he allowed his last time out. On Thursday, David Phelps will get his chance to show he belongs.
Freddy Garcia's time is up, at least for the time being.
"Freddy is clearly better than this," Yankees GM Brian Cashman said. "Whether you call it a timeout or what have you, it just couldn't keep going this way; especially the last two outings. Since April hit, our rotation has really been scuffling. Freddy has scuffled more than anyone else. Not just Freddy. Our bullpen has really taken the brunt of it this first month. We have to find a way to right the ship so we will give David Phelps a start."
Sabathia is the first of the starters who is clearly back on track.
"CC seems to be getting back to where he was, which is obviously important with how our rotation has been coming out of the gate, including himself early," Cashman said.
Sabathia looks like he is back. Who is ready to follow the leader?