After going undefeated for 333 days -- practically a full calendar year -- Ivan Nova knows what it feels like to be a losing pitcher again.
The 25-year-old had gone 15-0 in his 20 previous starts, one short of Roger Clemens' franchise record of 16 consecutive victories. But he was saddled with the Yankees' 5-0 loss to the Orioles on Wednesday night in the Bronx.
Nova wasn't terrible on Wednesday -- but he wasn't great, either. He lasted 6 1/3 innings, giving up five runs on nine hits, with four walks and a hit batsman.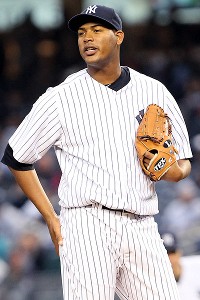 Anthony Gruppuso/US Presswire
Ivan Nova hadn't lost a decision since June 3, 2011."For the most part, I thought he threw the ball pretty well," said manager Joe Girardi. "He had a good slider tonight, I thought he had a good fastball tonight. A couple of his changeups got hit -- he elevated his changeups, and those were the home runs that he gave up."
After wiggling out of a bases-loaded jam in the first inning, Nova settled down in the second and third, not allowing a hit during either frame.
His first big mistake came in the fourth -- a 2-0 changeup that Orioles catcher Matt Wieters deposited in the right-field seats for a 1-0 Baltimore lead.
A leadoff walk came back to bite Nova in the sixth -- the batter, Chris Davis, came around to score on a single by Robert Andino, thanks in part to a wild pitch.
But the real damage came in the seventh. Nick Markakis blasted a home run to right, off another changeup, with one out. Nova then hit Adam Jones with a pitch, Jones scored on a double by Wieters, and Girardi had seen enough.
"I felt good out there today," Nova said. "I think I made a couple mistakes with pitches. Sometimes I get behind in the count too much, and every time you do that, you're gonna get hit. If you don't get hit when you're behind in the count, you're lucky."
Nova went 16-4 with a 3.70 ERA in 2011, with his fourth and final loss coming way back on June 3. He finished fourth in the voting for American League Rookie of the Year.
He was 3-0 coming into this, his fifth start of 2012. But the ERA was nowhere near what it was a season ago -- 5.18 coming in, now up to 5.58.
In his previous start, on April 27 against the Tigers, Nova wasn't sharp either, giving up six runs on 11 hits. But he escaped with a no-decision in a 7-6 Yankees victory.
He didn't escape this time.
"For me this team right now is more important than any personal goal that I have," Nova said. "All of those wins were very good moments for me. Now we gotta go back to work tomorrow and pitch better next time."
Nova received a ton of run support during his winning streak -- the Yankees averaged 8.05 runs per game over those 20 starts. His luck finally ran out on Wednesday, when the Yanks managed only five measly singles and never advanced a runner to second base.
The Yankees' bats will awake from their recent slumber. But either way, the team needs better outings from Nova to compete in the American League East this year.
With Michael Pineda on the shelf, Freddy Garcia banished to the bullpen and Phil Hughes hanging on for dear life in the rotation, Nova has never been more important to the Yankees' fortunes.