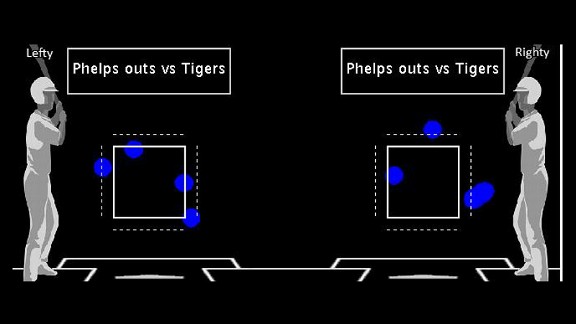 David Phelps had success in his most recent relief appearance, pitching three scoreless innings.Here are a few things to watch when David Phelps makes his first start of the season on Thursday night in Kansas City.
Home Runs or Lack Thereof
The one blemish on Phelps stellar mark this season is that he's allowed four home runs in 17 2/3 innings, three coming on what we'd call mistake pitches thrown over the heart of the plate.
Phelps may be able to get away with some of those pitches tonight.
He'll be pitching in Kauffman Stadium, where in theory, he's in good shape to avoid home runs. Year-to-Year, the ballpark ranks historically friendly for home-run avoidance due to its spacious dimensions.
From 2009 to 2011, Kauffman's Park Factor rated tied for second in the majors in home runs. There were 397 home runs hit in Royals home games in that span, 502 hit in road games.
Royals hitters have hit six home runs in 10 home games this season, though the ballpark has allowed 20 in total, due to the Royals pitching struggles (and 0-10 home record).
Pitch Location
Phelps got back to the success he had in his first couple of outings in his most recent relief appearance against the Tigers. He thrived at hitting the edges of the plate and avoiding the sorts of pitches like the ones he threw to Cody Ross and Mike Napoli that got crushed for home runs.
The heat map above shows his pitch locations for where he got outs in that game. Only one came on a pitch that was clearly in the strike zone.
The Royals lefties
Three of the prominent hitters in the Royals lineup are left-handed batters (Alex Gordon, Mike Moustakas and Eric Hosmer).
David Phelps in 2012
Gordon and Hosmer both had excellent seasons in 2011, but have not hit at the same level yet through the season's first month. Moustakas is hitting .309, the best start among the three.
When Phelps has had success this season, he's been very effective at getting left-handed hitters out. Lefties are 4-for-27 with five walks against him in 2012.
Phelps retired the first 12 lefties he faced, but has allowed four hits and five walks to the last 20 lefties he's seen.
When things are working for Phelps, he's been able to get left-handers out with fastballs over the middle-third, height-wise. He's yet to allow a hit with a middle-third fastball (one that seems to tail away from a lefty), and recorded nine outs with the pitch.
That would have been a dangerous pitch to either Hosmer or Gordon last season. They combined for 14 home runs and a .403 batting average in at-bats ending in fastballs at that height. They are 7-for-35 against such pitches this season.
Phelps has also been very careful in locating his curveball, not leaving any hanging ones over the middle of the plate. Of the 23 he's thrown to lefties, 21 have been located knee-high or below.
The Yankees Defense
Though the Yankees defense has had its issues this season, it has been fine behind Phelps through the first month.
Highest Opponents BABIP
2012 Season
The Yankees infield has turned 19 of the 22 ground balls Phelps has allowed into outs and handled both sacrifice bunts against him cleanly.
The infielders and outfielders have also caught 13 of the 14 fly balls and popups that stayed in the ballpark.
That's better than average performance on both counts, the sort that has been less-frequent behind other Yankees pitchers this season.