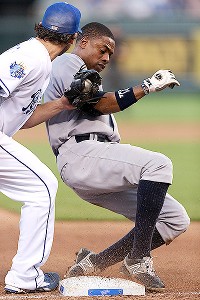 Ed Zurga/Getty Images
Curtis Granderson was thrown out at third base in the sixth inning.
Along with Russell Martin, Curtis Granderson was one of the few Yankees who did anything productive at the plate Saturday night, doubling twice but failing to score both times. The second time was the fault of the heart of the lineup, which, after Granderson had opened the eighth with a double, went down meekly with Alex Rodriguez and Robinson Cano grounding out and Mark Teixeira striking out to leave him there.
But the first time was no one's fault but that of Granderson, who tried to advance to third on A-Rod's fly out to medium right. He was easily gunned down by Jeff Francoeur, who has a well-known rifle for an arm, and what might have been an important inning for the Yankees got snuffed out before it really began.
Joe Girardi attributed Granderson's baserunning gaffe to the desperation efforts of a struggling offense to make something happen.
"Sometimes when an offense is struggling, you try to get into a situation where you can score,'' Girardi said. "I told him, 'You've got a guy that's as good as anyone throwing out there in right field.' He got behind the ball. You can't be thrown out."
Like most of his teammates, Granderson scooted out of the postgame clubhouse to watch a pay-per-view showing of the Mayweather-Cotto fight and was not available for comment.