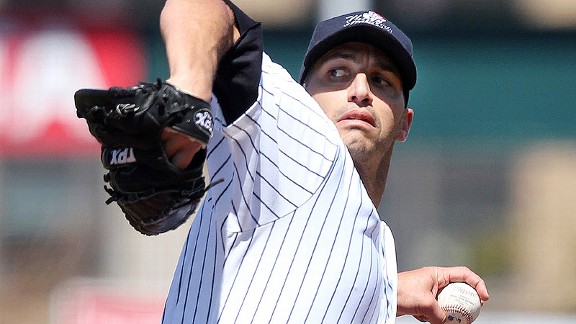 AP Photo/Mike Janes
Andy Pettitte got roughed up by the Triple-A Red Sox in a comeback start on Sunday afternoon. Joe Girardi sounded less than positive that Andy Pettitte would rejoin the Yankees this week, and that was before Pettitte went out and pitched five less-than-thrilling innings in Rochester for the Triple-A SWB Yankees against the Pawtucket Red Sox.
Pettitte's Place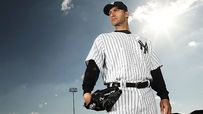 Andy Pettitte's back in pinstripes. Where does he rank among all-time Yanks?
50 Greatest Yankees

Rank 'EmAfter saying that Pettitte would throw 90-100 pitches today, Girardi added, "Anyone can go out and throw 100 pitches, but they got to be quality pitches. We need to see consistency. When you bring a guy back, you have to be sure he's ready.''
So Pettitte went out and threw 95 pitches, gave up eight hits and allowed five runs. He was victimized by an error by his first baseman and a passed ball by his catcher, Francisco Cervelli, but also walked a run in, and in the first inning also allowed, in succession, a double, a single, a double and a single. According to an AP report, Pettitte's fastball was clocked at 86 mph.
So although the quotes out of Rochester had Pettitte declaring himself ready to rejoin the Yankees, Girardi sounded less than sure of that.
"I only got a brief report,'' Girardi said. "Yeah, I'm sure I'll talk to (Brian Cashman) tomorrow or the next day and see where they feel he's at, the people that watched him. I want to hear how they think he's throwing the baseball.''