Nick Swisher frankly wasn't concerned the Yankees lost Sunday's game to the Mariners. The final score took a backseat to the return of Andy Pettitte.
"I know we lost today and that's what people are going to focus on, but I could really care less. We got our boy back," Swisher said. "I'm really excited to see what this team is about to do because we're getting all the guys back. ... We've dealt with some injuries and we're starting to get guys back.
"To see Pett back out there, it was great, felt like old times."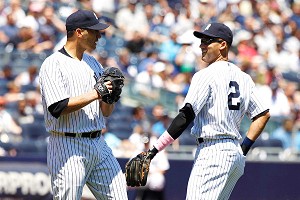 William Perlman/Star-Ledger/US Presswire
Derek Jeter tried to keep his longtime teammate Andy Pettitte loose during the first inning.
Pettitte, 39, made his first start since he came out of retirement, and pitched in the majors for the first time since Oct. 18, 2010, in the ALCS.
"He did a great job. He did exactly what we hoped he would do," shortstop Derek Jeter said. "They hit a couple home runs, but other than that he pitched well and threw strikes. Got out of a couple jams. I thought he did a great job."
There was a buzz at Yankee Stadium all day and the fans loudly applauded Pettitte any time he was announced or shown before the game. He even had his name chanted in the roll call from the bleacher creatures in the first inning, something pitchers usually don't receive.
When he departed the game in the seventh, Pettitte received a standing ovation despite trailing 4-1. The lefty waved to the fans before he ducked into the dugout, his night over after tossing 94 pitches over 6 1/3 innings. He yielded seven hits and struck out tow.
"It was awesome," fellow starter CC Sabathia said of the reception Pettitte received. "That's what we expected. He's a legend here. He deserved it."
In the top of the first, Jeter approached Pettitte and told him to pretend he was facing Luis Sojo and Mickey Rivers on Old Timer's Day. The Captain wanted to help ease Pettitte's nerves, as he assumed the lefty would be a little nervous about his first start in 19 months.
Jeter and his teammates agreed that Pettitte pitched as if he had never left the team. The lefty is slated to return to the hill Friday against Cincinnati.
"It was good to be able to see him back out there, pitching well," Sabathia said. "He had velocity on all his pitches, looking forward to seeing him get better."
As much as the Yankees are excited to have Pettitte back in the fold for his pitching abilities, they're also excited to have his veteran presence back in the fold.
"He's a leader, an emotional leader, leads by example," Swisher said. "He's a good human being, a good father. He's a great guy to be around."