NEW YORK -- Andy Pettitte was rusty in his return to the major leagues.
But Pettitte says it would be unfair to judge how well he's going to perform the rest of the season based on just one start.
"It feels good to be back out there competing," the 39-year-old left-hander said after giving up four earned runs on seven hits in 6 1/3 innings on Sunday afternoon, his first big league outing since Oct. 18, 2010.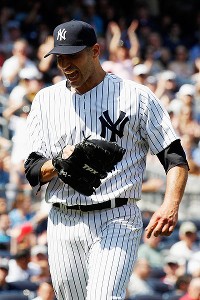 William Perlman/US Presswire
Andy Pettitte still has his competitive fire, evident in this reaction to a double play.
"But like I said when I spoke to [GM Brian Cashman] in December and we started talking about [a return], we talked about trying to get to the World Series. And for me, I feel like I'll be able to say that this was a success in late October."
No pitcher in baseball history has won as many postseason games as Pettitte (19).
But the Yankees are going to have to get there first. And to do so, they'll need the 16-year veteran to be the clutch performer he was prior to his retirement in 2010.
In Sunday's 6-2 loss to the Mariners, Pettitte looked like his old self at times. Yet there were other times when he looked like a pitcher who hadn't thrown in the majors in 573 days.
"Everything looked pretty similar to when he left," Yankees manager Joe Girardi said. "He was effective, and that's what we're used to seeing. To me, it looked like he hadn't missed a beat."
Pettitte's velocity was certainly there. His fastball was clocked in the 87-90 mph range.
It was his complementary pitches -- especially his cutter -- that weren't, forcing him to mostly abandon his off-speed stuff.
"I wasn't able to get any swings on my cutter. I got away from it," Pettitte said. "My command was just a little off."
Pettitte was in control early. He even took a no-hitter into the fourth inning. But with two outs in the frame, he threw a cutter to Justin Smoak that didn't cut enough, and the first baseman ripped it for a two-run homer.
In the sixth, Pettitte tried to challenge Casper Wells with a fastball on the outside corner. It didn't work. Instead, it ended up in the seats for another two-run shot.
It was one of five hard hits Pettitte allowed in the frame.
"I got a little careless with a few pitches," he said. "And you can't do that."
Girardi is interested to see how Pettitte, who threw 94 pitches, bounces back in his next start, which will be on regular rest.
Pettitte said physically he came out of Sunday's outing feeling "good."
He arrived in the clubhouse at 9:37 a.m., minutes after his nameplate was installed atop his locker -- right between fellow starters CC Sabathia and Phil Hughes.
Nearly 3½ hours later, Pettitte took to the mound again at the House That George Built, where he was greeted with a loud ovation from the crowd of 41,631. The Bleacher Creatures even included him in their famous roll call.
A short time ago, Pettitte was coaching PONY League baseball and throwing batting practice to kids. At the beginning of May, he was testifying at the Roger Clemens perjury trial.
So how did it feel to be sporting the pinstripes again?
"It felt good," Pettitte said. "I didn't really know what to expect. It came back quick. It was exactly like I thought it was gonna be."
Pettitte said he had a little nervous anxiety pitching to leadoff man Dustin Ackley in the first.
But from there, after getting the Mariners' second baseman to fly to right, it was business as usual.
"It felt like I never left," Pettitte said. "It wasn't as emotional as I thought it was gonna be. This wasn't quite even like a World Series start. It shouldn't have been because the pressure is so great in those games. I was pleasantly surprised that I was able to get out there, settle in, be able to relax and try to pitch."
As for his unfortunate results?
"It's gonna happen," Pettitte said. "It's happened to me a ton during the course of the season. That's what pitching is all about."