What it means: That the Yankees may have found themselves a reliable starter in a soon-to-be 40-year-old left-hander with salt-and-pepper hair, a nasty cutter and 18 months of recent rest in his pitching arm.
Dandy Andy: Facing a National League lineup, Andy Pettitte was a lot sharper in his second start than he had been in his first, keeping the ball down on his cutter and inducing eight K's in the first five innings. In fact, Pettitte's second outing in 18 months was the best effort by a Yankees starter all season: 8 IP, 4 H, 0 R, 1 BB, 9 K's. A truly remarkable performance in a 4-0 Yankees win.
Pettitte's Place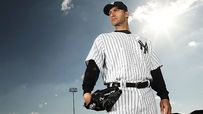 Andy Pettitte's back in pinstripes. Where does he rank among all-time Yanks?
50 Greatest Yankees

Rank 'EmWhoa, Cano!: Robinson Cano's eighth-inning bomb, a moon shot off a slider that Bronson Arroyo hung on 2-2, gave the Yankees some breathing room after another anemic night at the plate. It was Cano's fourth HR, and 16th RBI, and made up for his boneheaded baserunning in the fourth, when he got thrown out at second trying to stretch a single.
On a Raul: Raul Ibanez followed Cano's blast with a low liner into the right-field seats with Alex Rodriguez aboard. The two-run shot gave the Yankees a 4-0 lead and the King of Siam his eighth HR and 24th RBI, both second-best on the club.
No RISP, no reward: The Yankees' inability to hit in the clutch struck early, when Rodriguez led off the second inning with a long double to left-center field. He moved to third when the next batter, Ibanez, grounded out. But with two chances to move A-Rod another 90 feet, the Yankees stalled as Nick Swisher struck out on a check swing and Eric Chavez grounded out. That ran the Yankees' streak of futility with RISP to 3-for-their-last-44.
Way-(to go) Rod: In the fourth inning, the Yankees congratulated A-Rod in the dugout as if he had just hit a grand slam to win Game 7 of the World Series. For what, you ask? For grounding out to shortstop, which scored Curtis Granderson from third. That's what it has come down to.
Back to normal: After earning a mock cheer for their fourth-inning offensive explosion, the Yankees got some serious boos after wasting a bases-loaded, none-out situation in the sixth. After Derek Jeter and Granderson singled and Cano walked, both A-Rod and Ibanez grounded into forceouts at home, and Swisher popped out to shortstop. The Yankees had a beef with HP ump Larry Vanover, who called Jeter out at home even though the catcher's foot was not on home plate, but that is beside the point. Needing just an outfield fly to score a run, three consecutive Yankees failed to get the ball out of the infield.
What's coming: Kieran Darcy will be writing about the Yankees' all-or-nothing offense. I'll tackle a column about Pettitte, the unlikely savior.
There's always tomorrow: That's when Ivan Nova -- assuming his sore right ankle survives warm-ups -- puts his 4-1 record and 5.44 ERA on the line against RHP Homer Bailey (1-3, 4.35), first pitch at 1:05 p.m.