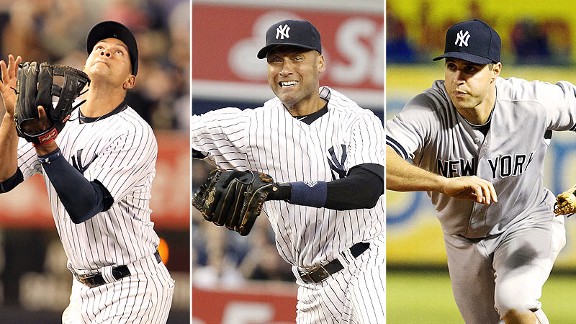 U.S. Presswire
Alex Rodriguez and Derek Jeter have had their issues in turning balls into outs, but Mark Teixeira has been his usual steady self for the Yankees this season."Our defense has been OK. We have had some guys who have been out of position. We have people, because of injury, playing places where they don't normally play. The balls that we get to, we are going to be really good at. I think our guys are very professional and they are going to do their job when they get to the ball."
-- Joe Girardi prior to Wednesday's game against the Royals
Statistically speaking, the Yankees' defense doesn't rate as highly as Girardi's assessment, perhaps because they don't get to as many balls as they should.
Advanced Defensive Stats
By most, if not all, of the advanced defensive metrics, the Yankees rate poorly relative to the other teams in the majors. And though 44 games does not provide enough data to make predictions for the rest of the season, it does allow the ability to assess where some of the trouble spots lie.
We use a combination of measures via Baseball Info Solutions, a company that provides defensive data to teams and media, as well as the Team Defensive Efficiency stat tracked at Baseball Prospectus, and our own batted-ball data.
Those stats are explained in the charts to the right of this piece.
Let's look how the Yankees rate in a number of areas related to these stats.
Gold Glove candidacies for Teixeira, Cano?
Two Yankees defenders are off to good starts this season-- Mark Teixeira and Robinson Cano. Each has saved the Yankees three runs this season, and plays like the game-ending stretch at first base and the Web Gem-worthy double play that Teixeira started in Wednesday's win help the statistical cause.
Teixeira ranks second in the majors in GFPs with 27, and his Good Play/Misplay Ratio is 5.4-to-1, the best among anyone in the AL. His offensive struggles and health issues have not hurt his play in the field.
Cano's strength has been in turning the double play as the pivot man. There have been 21 double-play chances in which Cano was the pivot man at second base. The Yankees have turned 17 of them, or 81 percent, the third-best pivot rate in the majors.
Grounded
% Ground Balls Turned into Outs
AL East Teams
The Yankees' biggest defensive liability may be their inability to turn ground balls into outs.
Opponents have reached base 30 percent of the time when hitting a ground ball, whether by hit or error.
The chart on the right shows how the Yankees' rate at turning grounders into outs, particularly compared to AL East teams.
Our data shows specifically that the Yankees are getting hurt by ground balls to the left of second base.
Derek Jeter, rates poorly, at -5 Defensive Runs Saved. Alex Rodriguez checks in as having cost the Yankees a run.
Jeter's issue is that a lot of ground balls have scooted through holes usually covered by a major league shortstop. He's made up for that with 11 GFPs and only 6 DM&E. His Good Play/Misplay rate is third-best among shortstops.
On the other hand, Rodriguez, who was one of the best-rated third basemen defensively last season, has only 4 GFPs and 6 DM&E. Last season Rodriguez fared much better, with a 26/17 GFP/DM&E tally.
Outfield Issues
The Yankees miss Brett Gardner, whose play was Gold-Glove worthy last season, but they have other things to worry about in the outfield.
New York Yankees
Runs Saved by Position
The primary one is that for the second straight season, Curtis Granderson and Nick Swisher are not rating well. Combined, they have -8 Defensive Runs Saved (in other words, their defense has cost the Yankees eight runs).
The primary culprit in their bad ratings is that they are yielding hits on balls hit over their heads. Our hit location data charts the Yankees as having allowed 58 batted balls to center field, and the two outfield gaps, that traveled an estimated 350 feet or more and stayed in the ballpark.
Yankees outfielders allowed 26 hits on those balls. The average major league team is allowing 20.
One of the other things that hurts Granderson is that runners have taken 20 extra bases on the 29 times they've had the opportunity to advance (ie: take a base on a sacrifice fly or go first to third/second to home on a single). That's out of line with the normal rate of advancement on Granderson's arm (about 50 percent).
Perhaps that, like some of the other things mentioned in this story, will correct in time. They are among those that bear watching over the next 4½ months.