OAKLAND, Calif. -- With his home run, double and single in a 9-2 victory over Oakland, Robinson Cano now has homers in two straight games -- and three in his last four -- after hitting just four in the Yankees' first 42 games.
Over the past 23 games, Cano is hitting .352 (31-for-88) with six HRs and 16 RBI.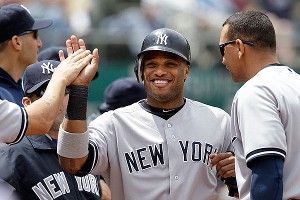 AP Photo/Jeff Chiu
Robinson Cano
And he continued his habit of belting Bartolo Colon: Cano came in batting .600 against his former teammate, and after going 2-for-3 against him Saturday, raised that mark to .625.
"We all know he throws a lot of fastballs, so you want to be able to not miss a pitch when he throws it over the plate," Cano said.
With both Cano and Mark Teixeira hitting well, the Yankees' lineup for one of the few times all season is beginning to resemble the wrecking machine it was last year. Joe Girardi called it "a market correction."
"I've said all along that these guys haven' been great hitters all these years by accident," Girardi said. "It's not something that they rolled into one year and all of a sudden became good hitters. These guys have been doing it year after year after year and, eventually, things are going to even out."