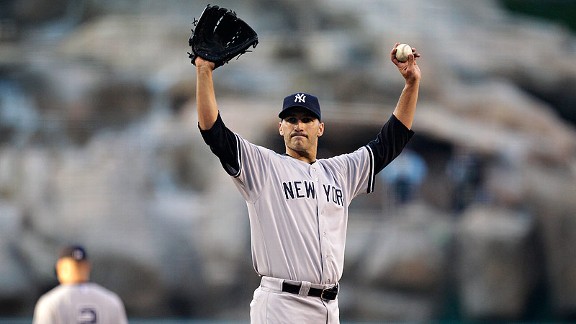 Harry How/Getty Images
ANAHEIM, Calif. -- Andy Pettitte gave the Yankees just about everything they could have asked for Tuesday night.
He gave them distance (seven innings). He threw strikes (no walks). For the most part, he kept the ball down (12 ground ball outs). And with the exception of Cody Eppley, who came on one batter into the eighth inning, he gave the bullpen a night off.
Pettitte really made only two mistakes all night, but they were beauties: a 1-0 fastball that Albert Pujols hit into the left-field seats, and a 1-1 cutter that Mark Trumbo deposited on the rock pile a half-mile from home plate (OK, it was only 443 feet).


But with his Angels counterpart, Dan Haren, pitching a gem, allowing just one run over seven innings, what Pettitte didn't do was more than enough to ensure a 5-1 Yankees loss and put them in the position of needing to win Wednesday night's series finale or leave Anaheim having been swept by a team that only three weeks ago was 11-17.
So as well as Pettitte pitched tonight, it was hard to disagree with his self-assessment: "I got to get better, that's just all there is to it.''
With Pujols hitting again -- his home run tonight was only his eighth of the season but his fifth in the past eight games -- Haren pitching the way he did back with the Oakland A's, and a roster of young, swift players such as Mike Trout and Erick Aybar getting to just about anything off a bat, the Angels are probably the best team Pettitte has faced so far in his comeback.
In four starts, Pettitte has now beaten the Cincinnati Reds and Kansas City Royals and lost to the Seattle Mariners, and now to the Angels. His ERA is still a tidy 3.49 and his strikeouts-to-walks ratio is an impressive 22-5. But in four starts, Pettitte has now allowed six home runs, and neither of last night's shots was a cheapie.
"You kind of pride yourself on keeping the ball in the yard, and I keep giving up home runs,'' Pettitte said. "That's frustrating. Even in the wins I've had, when you give up the long ball, those are usually all mistakes.''
And at Pettitte's current level of performance, he can't afford mistakes. Never overpowering, he rarely breaks 87 mph on the gun these days, relying on the location of his cutter to get strikeouts and weak swings. Both the home runs he allowed tonight were on mistakes -- the fastball to Pujols was over the plate ("a stupid pitch,'' Pettitte called it) and the cutter to Trumbo, which was supposed to be down, hung over the middle.
"Just a horrible pitch,'' Pettitte said.
#46 SP
New York Yankees
2012 STATS
Of course, Pettitte was not the only reason the Yankees lost -- Trout, who robbed Nick Swisher of a possible home run in the second inning and tripled in the third, was one, and center fielder Peter Bourjos, who robbed Swisher at the fence in the seventh, was another, and Robinson Cano, who struck out to end two innings with the bases loaded, including the last out of the game, was a third -- but the fact is, as the quality of his opposition improves, we may just see more and more cracks in what has been a finely crafted story thus far.
The Yankees are not hitting the way they were expected to -- once again, they stranded 12 baserunners, were just 3-for-11 w/RISP and their numbers with the bases loaded remain horrendous -- and with less margin for error, the pitching being merely good will many nights not be nearly good enough.
That goes for CC Sabathia and Hiroki Kuroda and Phil Hughes and Ivan Nova, whose responsibility it will be Wednesday to save the Yankees from a sweep that would cancel out all the optimism they generated with their own sweep of the inferior Athletics last weekend.
And it goes for Pettitte, whose comeback has been a great story so far.
"After the first game, I felt like I was going to be able to do this,'' Pettitte said. "I just felt so as long as I'm healthy, I'm going to be able to do this. That's a moot point for me now. Now it's all about just helping this team win.''
To do that, Pettitte is going to have to be better than he was Tuesday night. At least two pitches better.