DETROIT -- Joe Girardi was hot.
You could still tell, more than an hour after the Yankees' 4-3 loss to the Tigers before a sellout crowd of 44,593 at Comerica Park on Saturday night.
And with good reason. Not only had his team continued to struggle in the clutch, going 1-for-12 with runners in scoring position. But he had to watch the gut-wrenching end -- a game-winning sacrifice fly in the bottom of the ninth -- from the clubhouse after getting ejected in the top of the seventh.
And this wasn't a run-of-the-mill ejection. This was a suitable-for-framing number. Even the king of umpire rain dances at home plate, Lou Piniella, would have been proud.
It even included Girardi throwing his hat at the feet of home-plate umpire Bob Davidson.
"It shouldn't have happened," said Girardi, who wasn't warned before he was tossed. "I believe their job is to keep peace."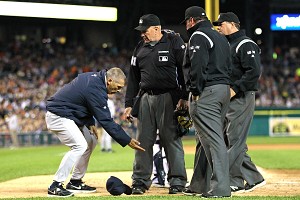 Leon Halip/Getty Images
Joe Girardi's hat went flying during his heated discussion with the umps on Saturday night.
"And to me, that's not what he did."
It all started when Davidson ejected hitting coach Kevin Long. Apparently, Long didn't like a strike called on Curtis Granderson on the first pitch of his at-bat, with runners on second and third and one out, and the Tigers leading 2-1.
The TV replay showed the pitch was both low and off the plate to the left-handed hitter. "I thought it was down," Granderson said of the controversial pitch.
Granderson fouled off the second pitch to fall into an 0-2 hole. "It wasn't me," said Granderson, who wound up striking out on three pitches. "I'm up there just trying to bat.
"I didn't know what happened behind me. I just heard Joe come running out of the dugout."
After the foul ball, Davidson took off his mask, pointed into the Yankees' dugout and ejected Long. Girardi came charging out. He was yelling. He took his hat off and threw it at Davidson's feet. The two were face to face.
When other umpires came to Davidson's aide and tried to separate the two, Girardi picked up his hat and still tried to get at Davidson. Girardi said Davidson never responded to him.
The Yankee skipper was really fired up and kept on yelling, even as he left the field. It was the 14th time Girardi has been ejected as the Yankees' manager, and the second time this season. "I'm mad," said Girardi, about why he threw his hat. "Sometimes, I kick it, too."
This is the second time in three games the Yankees have had problems with umpires. On Wednesday in Anaheim, catcher Russell Martin and home-plate umpire Laz Diaz got into it. But the Yankees don't now believe they are being targeted by all umpires because of that spat.
"That would be very discouraging," Girardi said. "We play with emotion.
"Every night we go out and it means something to us. The only thing that means something to them is how they do their job, not whether they win or lose. They don't win or lose. It means something to us."