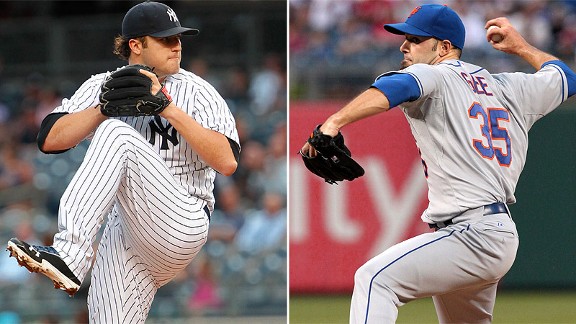 US Presswire/Getty Images
When aces like Johan Santana were available, Phil Hughes, who faces Dillon Gee tonight in the Bronx, was considered untouchable by the Yankees.Circumstances are often overlooked when we judge players. There is a feeling among some with the Yankees that Ian Kennedy probably would not have become the Ian Kennedy of today if he had stayed in the AL East instead of moving to the NL West.
So the Yankees were willing to include Kennedy in the three-way trade that scored Curtis Granderson before the 2010 season.
In Kennedy's first season with the Diamondbacks, he was just 9-10 with a 3.80 ERA. Then he broke out last year and finished fourth in the Cy Young voting. As a 26-year-old, Kennedy went 21-4 with a 2.88 ERA.
Phil Hughes turns 26 later this month, and the Yankees hope he is breaking out. They put Hughes on their untouchable list back in 2007, refusing to part with him as the main cog in a deal for then-Twin Johan Santana. Hughes was an All-Star in 2010, but really hasn't done a lot as a starter besides a strong two-month period in '10.
So the Yankees are hoping that Hughes just turned a corner. His complete game last Sunday in Detroit may have been the best start of his career. In Hughes' last six starts, he is 4-2 with a 3.60 ERA. If you take out his seven-run, 5 1/3-inning outing in Anaheim, his ERA is 3.15 in his last five starts.
The Yankees think that Hughes, with his aggressive approach, may have found something. Tonight in the Subway Series, he gets another chance to show if he has taken another step, like Kennedy did when he turned 26.
UP NOW: Ian O'Connor on Johan Santana,Wally Matthews on Robinson Cano's two homers and my column on Hiroki Kuroda stealing the show. Also, the always informative Katie Sharp has our What2Watch4 for tonight's 7:15 p.m. matchup.
IN THE HOLE: Adam Rubin, Matt Ehalt and I will have full coverage from the Bronx.
QUESTION OF THE DAY: Do you believe in Hughes?