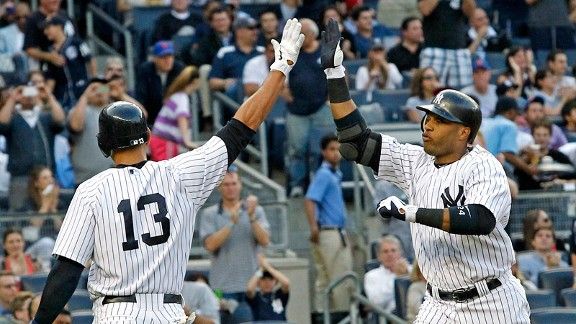 Tim Farrell/The Star-Ledger/US Presswire
Robinson Cano and the Yankees had plenty to celebrate in Friday night's win.WONDER-PHIL: Phil Hughes is coming off one of the best starts of his career, a complete-game four-hitter against the Tigers last Sunday. Looking ahead to tonight, the only other Yankees right-hander in the last 20 seasons to throw consecutive complete games was Jack McDowell in 1995.
Hughes was aggressive in his last start, throwing his fastball a season-high 81 percent of the time, and netting 21 outs with the pitch. Perhaps most encouraging was that he allowed just three hits in 16 at-bats to righties, after they crushed him (21-for-46, .457 BA) in his previous three starts.
A HUGHES HOME RUN PROBLEM: A discussion of Hughes would not be complete without mentioning that he has allowed 13 homers this season, and at least one in each of his 11 starts.
According to the Elias Sports Bureau, there have only been two longer streaks to start a season in MLB history: Runelvys Hernández of the Royals in 2006 (12) and Bert Blyleven of the Twins in 1987 (14).
Most Consecutive Starts Allowing HR
Yankees Live Ball Era
Hughes' problem recently has been when he leaves a pitch in the heart of the strike zone -- i.e., the "middle-middle" of the plate.
His last three homers allowed have come in that location, but those are the only three hits he has allowed in eight at-bats ending in a pitch there. In his first eight starts, opponents were 6-for-20 in at-bats ending with a "middle-middle" pitch, and just one of those hits was a homer.
Three of the six flyballs he has allowed on those "middle-middle" pitches in his last three starts became homers. In his first eight starts, one of his 12 flyballs allowed on such pitches turned into a homer. The league average rate is one home run every seven flyballs allowed on pitches in that location.
MATCHUPS TO WATCH: Hughes has faced only five current Mets: Jason Bay and David Wright are a combined 7-for-18 with seven strikeouts, while Ike Davis, Scott Hairston and Daniel Murphy are a combined 0-for-7 with three walks.
No Yankee has faced Dillon Gee more than four times. Current Yankees are a combined 5-for-20 (.250) with one home run -- by Curtis Granderson -- and seven strikeouts against Gee.
JETER METER: Derek Jeter, who went 0-for-4 on Friday night, is mired in his first extended slump of the year. He is hitless in his last 17 at-bats, tied for the third-longest hitless streak in his career, and his longest since an 18 at-bat drought in May 2008.
Jeter also doesn't have a hit in his last four games in the Bronx. Only three other times in his career has he had a longer streak of home games without a hit: He had three separate five-game streaks in 1996, 2004 and 2005.
His 0-for-4 effort Friday snapped a 25-game hit streak at home against the Mets dating back to 2003. That was tied with Tony Gwynn for the longest home hit streak against the Mets in their franchise history.
For a Mets perspective on this game, check out the Mets blog.