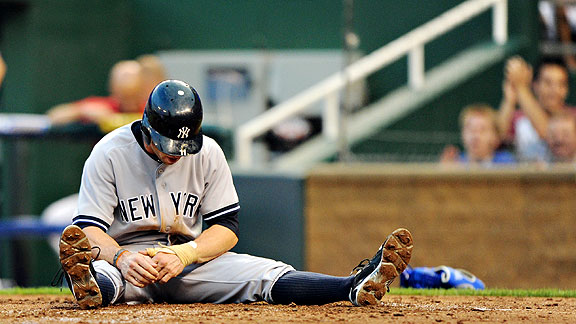 Peter G. Aiken/US Presswire
Yankees left fielder Brett Gardner has suffered a setback and likely will not return to the Bombers until after the All-Star break, skipper Joe Girardi said Saturday.WHAT IT MEANS: The place where the Yankees really miss Brett Gardner -- who suffered a setback today and is likely out until after the All-Star break -- is on defense.
Raul Ibanez and Andruw Jones provide a different type of offense than Gardner -- more power, less speed -- but it is enough that they can pretty much compensate for Gardner's loss at the plate.
Where the Yankees have gotten hurt is all the balls they don't get to that other teams do. The Yankees have committed the fewest number of errors of any team in baseball. They have misplayed only 23 balls.
The problem is, they don't get to as many balls as other teams. This makes pitchers worse.
WHAT'S NEXT: Yankees GM Brian Cashman said he doesn't want to "overexpose the old guys" -- so eventually he might make a deal.
He isn't acquiring a Gardner, though.
"There is nobody better defensively than [Gardner]," Cashman said.