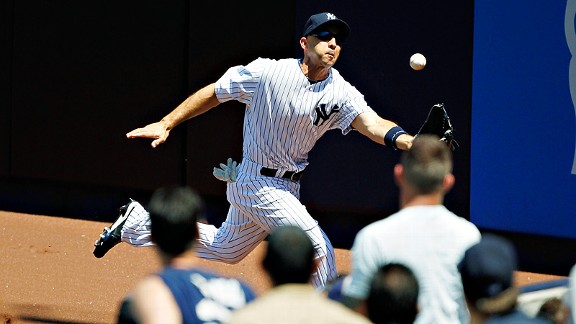 Mike Stobe/Getty Images
Raul Ibanez has been a pleasant surprise to the Yankees in the outfield.When the Yankees signed Raul Ibanez this winter, it was intended for him to be a designated hitter who could also, if necessary, play the outfield.
But since April 18, when Brett Gardner went down with an elbow strain that he has yet to return from, Ibanez's job description has changed -- to left fielder who can also DH, if necessary.
If anyone had told you back in March that Ibanez would play 40 of the Yankees' first 60 games in left field, and Gardner only 9, you would have pre-written the season off as a disaster.
But that is precisely what has happened and after 60 games, the Yankees -- riding a crest of 14 wins in their last 18 games -- have fought their way into a tie for first place in the AL East.
Most of this is due to the pitching, of course, which has been better than expected all season and over the past two weeks, practically transcendent.
But the Yankees have not only survived with Ibanez in left, they have thrived. His home run in Monday night's 3-0 win over the Braves was his 10th of the season -- only Curtis Granderson, Robby Cano and Mark Teixeira have more -- and perhaps more remarkably, in the homer-heavy history of the Bronx Bombers, no player as old as Ibanez has ever hit as many home runs in one season. Ibanez turned 40 on June 2 but lately, his bat looks at least a decade younger.
And it will have to stay that way, now that Gardner's return has been pushed back indefinitely, and pending the outcome of his exams this week, could wind up lasting all season.
Now, what only seemed likely in the even of dire emergency has become everyday reality. With the preponderance of right-handed starters in Major League Baseball, you've got to figure that Ibanez could start at least 60 of the Yankees' remaining 102 games.
And that would suit him fine. "I'm perfectly fine with that,'' Ibanez said. "It's unfortunate, because Gardy's a huge part of our team, but at the same time, I'm ready to do whatever they need me to do. It's not a problem at all.''
Over the past three seasons, in fact, Ibanez started 408 games in the outfield for the Philadelphia Phillies, an average of 136 a year. He is in phenomenal physical condition, not just for a man his age, but for a man of any age.
And while he can't do the things that Gardner does -- he's no Gold Glove left fielder, he'll never be accused of creating chaos on the basepaths and he's never stolen more than nine bases in a season and that was seven years ago -- he also can do some things Gardner can't do. Namely, hit the ball out of any ballpark, and especially Yankee Stadium with that tantalizing right-field porch.
"I got accustomed to playing the field every day in the National League,'' he said. "I never got that half-day's rest you get as a DH. So it's not really a big deal. Whatever Joe needs me to do, I'll do.
"I really don't care where I play,'' Ibanez said. "I just want to be on the top nine lines of the lineup card. After that, I'm happy.''
Question of the Day: Are you happy with Ibanez as the everyday, or at least most days, left fielder? Or at least, are you comfortable with him there? Let us know below.
Up now: My column on how I made Joe Girardi scream last night. Also, a blog item on why when the bullpen door swung open last night, Rafael Soriano didn't come out.
On deck circle: A What2Watch4 on tonight's game by the crack staff at ESPN Stats and Info later this morning, followed by clubhouse opening at 3:40 p.m. I'll have the lineup as soon as it's posted, followed by as many pregame notes as I can dig up. Tonight, it's CC Sabathia (7-3, 3.69) vs. LHP Mike Minor (3-4, 6.57), first pitch at 7:10 p.m.
Check in this afternoon and as always, thanks for reading.