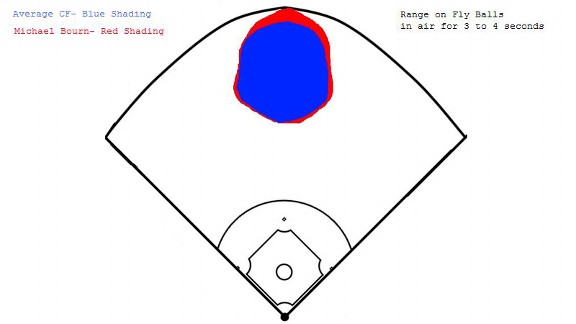 Ben Jedlovec/Baseball Info Solutions
Michael Bourn rates among the best center fielders in the game at getting to fly balls, something the Yankees saw firsthand on Monday.Sabathia the Pitcher
CC Sabathia had a weird game in his last start against the Rays, allowing five runs (three earned), but finishing with 12 strikeouts and one walk. He did so in a game in which he was more reliant on his off-speed pitches than in any start in nearly three full years. Sabathia threw only 45 percent fastballs, his lowest total in a game since July, 2009.
Sabathia got 15 outs with curve, slider, and changeup which was great but for the one hit he'd like to have back -- a two-run double off a slider by Drew Sutton
The Sabathia heater averaged 93 mph, but had considerably less left-to-right movement than in his most recent four starts. It was very hittable, netting six outs, but yielding six hits and bears watching against this Braves lineup tonight.
Sabathia the Hitter
This will be Sabathia's first chance this season to bat, an opportunity he relishes.
Sabathia is 25-for-100 with three career home runs in regular season play, and 2-for-12 with the Yankees. His last home run was July 13, 2008, against the Reds.
Sabathia is unaffected by facing a left-handed pitcher, which he'll see tonight. He's 7-for-23 in his career against lefties.
Welcome Back
Former Braves star Andruw Jones would figure to get a start for the Yankees against Braves lefty Mike Minor, who enters with a 6.57 ERA in his 11 starts this season.
Jones is 11-for-54 against left-handed pitching this season, but did homer against Johan Santana last Friday.
Jones hit 368 of his 426 home runs with the Braves. His next home run would tie him with Mike Piazza for 43rd on the all-time home run list.
Bourn Again
Did you catch the diving catch by Braves center fielder Michael Bourn on Mark Teixeira in the seventh inning?
That's nothing new for Bourn. Check out the image atop this article courtesy of Baseball Info Solutions. We ran a similar snapshot for Brett Gardner last season.
Bourn, like Gardner, ranks among the best in baseball at catching balls to the deepest part of the outfield. He leads all center fielders with 12 Defensive Runs Saved, an advanced stat that shows a fielder's ability to turn batted balls into outs, rob home runs and use his throwing arm to deter baserunners.
The luck has to turn for McCann, doesn't it?
Braves catcher Brian McCann hit three rockets for outs, including a potential home run robbed by Nick Swisher and a line drive right at Teixeira in the ninth inning.
McCann is hitting .231 when he hits the ball and it doesn't go out of the park (in the statistical field, we call this Batting Average on Balls in Play). That line drive out was nothing new. He's 14-for-24 when hitting a line drive this season (.583 batting average). He got hits on 77 percent of his line drives in 2010 and 2011.