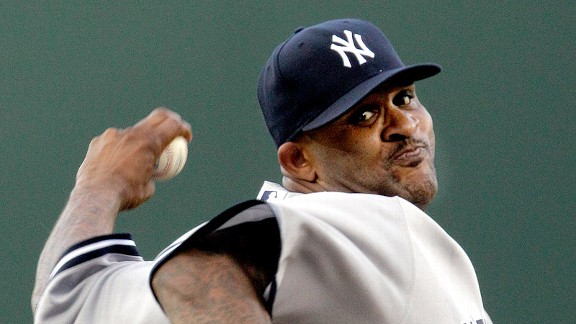 AP Photo/David Goldman
ATLANTA -- For the first one-third of the 2012 baseball season, the Yankees and their fans have taken turns worrying about one starting pitcher or another.
In spring training, it was Michael Pineda. Early in the season, it was Hiroki Kuroda. Until about two weeks ago, it was Phil Hughes and Ivan Nova.
The one constant was CC Sabathia. Or so we thought.
But now that the Yankees have straightened out their other rotation question marks, is it time to start worrying about the one guy who we figured we'd never to have to worry about?
Despite recording the win in Tuesday night's dramatic 6-4 victory over the Braves, Sabathia pitched poorly for the second straight outing. Once again, he got hit hard, especially in the early innings. And once again, after the game was over, he mentioned having trouble with his fastball, from whence all good things come.
#52 SP
New York Yankees
2012 STATS
And by his own admission, he has yet to have a single start this season he could truly be satisfied with.
It's no longer early in the season. More than a third of the games have been played and 13 of Sabathia's starts are already in the books. His won-loss record is stellar -- 8-3 -- and his ERA is very good, at 3.80.
But he has been very hittable -- 91 hits now in 92 1/3 innings -- and he has developed a tendency to put his team in a hole early and then settle down. In fact, the only thing you can be sure of when Sabathia starts these days is that the bullpen will get some rest -- he has gone at least 6 innings every time out, worked eight full innings four times, and seven full innings the past five times out.
But as I wrote after his sub-par performance against the Tampa Bay Rays on June 7, he has yet to turn in that one dominant, shut-down performance that says Ace.
After the game Tuesday night, Sabathia was once again at a loss to explain his struggles.
"I think I was just all over the place, not being able to command anything,'' he said. "I don't know why, but it's something I need to figure out, because it's hurting me early in games and putting us in a hole. It did tonight.''
Sabathia, who like all Yankees starters benefits from generous run support (the Yankees have scored an average of 6.43 runs per game when CC pitches) wound up with the win after the eighth-inning explosion in which Alex Rodriguez tied the game with an historic grand slam, and Nick Swisher followed with a two-run homer than ultimately won it.
But he knew that this time, he had merely gone along for the ride. "I've been grinding all year,'' he said. "I haven't had a stretch or a couple of games where it's been easy, or when I've been able to command my pitches all year.''
Once again, CC Sabathia has been a good pitcher. But not nearly as good as he had been in any of his previous three seasons as a Yankee, nor anywhere close to the pitcher the Yankees expected to see when they extended his contract this winter.
Which brings us to today's question: Are you worried about CC Sabathia? Or are you satisfied that what he has shown you so far -- good but not great -- will be good enough to take the Yankees deeper into the playoffs than last year?
Up now: My column on last night's hero, Alex Rodriguez, and a blog item on the kid who caught a piece of baseball history and traded it away for a ball, a bat and a jersey. Good choice or bad? You make the call.
On deck: A preview of tonight's game as the Yankees go for the sweep in Atlanta behind Kuroda (5-6, 3.46), who faces RHP Tim Hudson (4-2, 3.83), first pitch at 7:10 p.m. I'll be in the clubhouse when it opens at 3:40 p.m., with lineups and other pregame goodies to follow, so check in often. And as always thanks for reading.