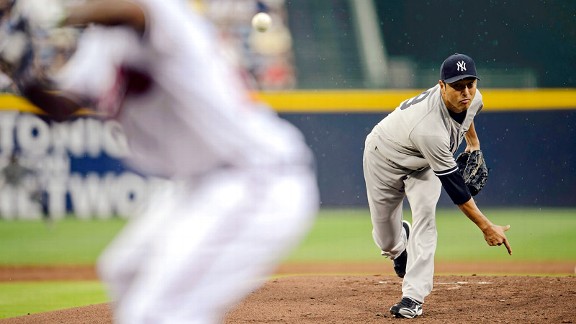 Paul Abell/US Presswire
An Atlanta rainstorm couldn't distract Hiroki Kuroda on Wednesday.ATLANTA -- Hiroki Kuroda doesn't show a whole lot of emotion or speak a whole lot of English, but he let loose with what for him is a veritable stream of both during the sixth inning of Wednesday night's game against the Braves.
"He fist-pumped and just went, 'Yes!'" said Russell Martin, who caught Kuroda in Los Angeles and has developed a more-than-adequate system of communication with the Japanese right-hander. "You don't see that very often."
The occasion was Curtis Granderson's two-run homer that gave the Yankees a 3-2 lead just minutes after the Braves' Brian McCann had hit a bomb off Kuroda to put Atlanta ahead 2-1.
For a pitcher who toiled for four years without run support, it must have seemed as if Kuroda had been transformed back into an L.A. Dodger. For the fourth straight outing, Kuroda pitched well -- 6 IP, 9 H, 2 ER, 8 K's, many of them biggies that snuffed out potential rallies -- but once again, the high-scoring Yankees couldn't help him out much; they average just 3.70 runs per game when Kuroda pitches.
#18 SP
New York Yankees
2012 STATS
"He's always been a tough guy, the type of guy that, whether he has a good day or a bad day, you can't really tell," Martin said. "He's not going to get too down on himself and he's not going to get too high, either. He never really lets anything get to him, even after the home run."
Kuroda, who was making his first start after taking a line drive off his left foot in an excellent performance against the Mets last Friday, showed no ill effects. In fact, he showed his best fastball of the season, blowing a 94 mph heater past Chipper Jones with a runner on third in the third inning, and a 92 mph fastball by Eric Hinske with a runner on second in the fourth.
"Now when he needs a strikeout, it seems like he has a little extra juice on them," Martin said. "Now, he'll show up some nights with unhittable stuff."
With the win, Kuroda evened his record at 6-6 and lowered his ERA to 3.43, better than any starter's other than Andy Pettitte. And between his 4-plus seasons in the major leagues and his previous career in Japan, it was Kuroda's 150th win as a big-league pitcher.
Said Joe Girardi: "I think this is the Hiroki that we signed."