WASHINGTON, D.C. -- Over his past three starts, Phil Hughes is 3-0 with a 1.69 ERA, including a complete-game four-hitter two starts back and a six-inning, nine-strikeout performance Friday night against the Washington Nationals, who had the second-best record in baseball.
Clearly, his season has reached a tipping point, which raises an issue brought up by Andy Pettitte before Friday's game: Were Hughes' early-season struggles the result of tipping his pitches?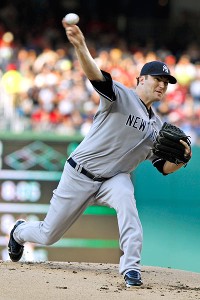 AP Photo/Alex Brandon
Why did Phil Hughes pitch only six innings? The Yankees pinch hit for him during their four-run rally in the seventh.
"Mechanically, I think he found something a few starts ago where he might be hiding the ball better," Pettitte said when asked his opinion of why Hughes suddenly seems to have found his groove.
We have heard a lot of explanations for Hughes' lack of effectiveness over the first two seasons, from his mysteriously dislocated fastball last spring to his reluctance to use his changeup to his supposed lack of a swing-and-miss pitch.
But this was the first time anyone raised the possibility that the problem wasn't with what Hughes was throwing, but with the fact that maybe the hitters knew what was coming. And without quite acknowledging that was the problem, Hughes did agree that for the past three starts, he has been holding the ball differently.
"After the third inning in Detroit [the complete-game victory June 3], I made a little mechanical adjustment trying to close my body off a little more," he said after the Yankees' 7-2 victory Friday. "It helps hide the ball and creates more of an angle to home plate. It's not an over-dramatic twist or anything like that, just a little turn that allows me to hide the ball better and create a better angle to home plate."
Whatever he did, it is working. Throwing a fastball that consistently touched 94 mph Friday, Hughes struck out a season-high nine and, perhaps more importantly, got through an entire outing without allowing a home run for the first time all season.
He was in trouble in only one inning, the third, when the Nationals loaded the bases with one out. But after allowing an RBI single to Mike Morse, Hughes made the pitch of the game to Ian Desmond, who rapped into an inning-ending 6-4-3 double play.
Joe Girardi said Hughes' recent form -- he is now 7-5 with a 4.50 ERA -- is justifying the Yankees' faith in him, which was sorely tested when he was 1-4 with a 7.48 on May 1, as well as their decision to keep him in the rotation.
"Phil has a good fastball, and it seems to get on hitters really quickly," Girardi said. "We felt this was a guy that could win a lot of games for us, and that's what he's doing."