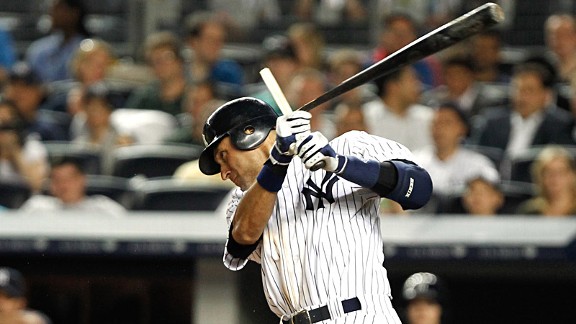 Debby Wong-US Presswire
Is hitting with runners in scoring position -- gasp! -- overrated?Over the course of the Yankees' 10-game winning streak, which ended with Tuesday night's 4-3 loss to the Braves, the team batted .226 (19-84) with runners in scoring position, the stat with has become the flavor of the month.
In six of those victories, they were even worse than that -- 8-for-58, or the equivalent of Andy Pettitte's career batting average of .137. They won those six games by a combined score of 21-10.
Which raises the question: Does RISP really matter? Or is it just a convenient scapegoat when a team is losing, and something to disregard when it wins?
Clearly, the Yankees lost on Tuesday night because of their failure to hit in the clutch, particularly in the seventh inning, when, trailing by a run, they got runners to second and third with one out and failed to come up with a timely hit. On this night, RISP was a huge factor.
But what of Sunday, when they went 0-for-12 w/RISP and won rather handily, 4-1 over the Washington Nationals, thanks mainly to the brilliant pitching of Ivan Nova? Or Saturday, when the tragic number was 2-for-18, but they still managed to outlast the Nats over 14 innings, 5-3?
Like just about every other statistic, RISP can be manipulated to make just about any point that you would like to make. This season, a lot has been made about the Yankees' poor RISP performance -- the team's batting average is .218 with RISP and an even-more woeful .183 with the bases loaded -- but their 41-26 record is the best in the American League and the second-best in baseball.
So when is RISP important, and when is it not?
For an answer to that question, it's probably a good idea to ask the experts.
"I'm not really a stat guy," Russell Martin said. "It's either you win or you lose at the end of the day. Whatever our average is with runners in scoring position doesn't matter as long as you win games, but it helps to win games when you're driving in runs with guys in scoring position."
"Don't look too deep into it," Mark Teixeira said. "We've been playing really good baseball so we're not going to fret too much over one game. Tonight we just didn't get it done."
"I don't make too much out of it," Joe Girardi said. "I thought our at-bats were pretty good. We had some line-outs, we had some hard outs tonight. That's what I go by."
Which brings us to our Question of the Day: What do you think of RISP as a stat? Useful? Meaningless? Over-used? Overrated? Let us know in the comments section.
Up now: Johnette Howard's column on what GM Brian Cashman is worried about (it may surprise you). I've got a couple of blogs up off last night's streak-busting loss.
On deck: Quick turnaround for today's 1:05 p.m. game, Phil Hughes (7-5, 4.50) facing RHP Tommy Hanson (7-4, 3.32). Clubhouse opens at 10 a.m. and the one and only Andrew Marchand will take you through the day. I'll be back for Friday night's opener of Subway Series II against the Mets at Citi Field. Check in throughout the day and as always, thanks for reading.