Yankees fans, you're probably aware, but just in case you aren't: The best starter in baseball pitches in Queens.
His name is R.A. Dickey, he's 37 years old and he throws a hard knuckleball in the low- to mid-80s.
He's 11-1 with a 2.00 ERA and will go into Sunday night's showdown against CC Sabathia having hurled consecutive one-hitters.
And, by the way, he also climbed a mountain and wrote a book this year.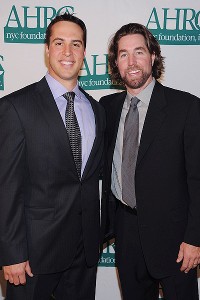 Dimitrios Kambouris/Getty Images
Yankees slugger Mark Teixeira and Mets pitcher R.A. Dickey were teammates with the Rangers.
Not bad, huh?
"How can you not?" Sabathia replied Saturday when asked if he has been paying attention to Dickey's season.
Dickey (1-0, 1.64 ERA vs. the Yankees last season) had been a run-of-the-mill conventional pitcher for the Texas Rangers before deciding to become a knuckleballer in 2005. In his first start with Triple-A Oklahoma City, Dickey and his knuckleball were tagged for 14 hits and 12 runs in 5 2/3 innings.
Dickey threw his knuckleball in the majors for the first time with the Rangers in 2006. He pitched in only one game and gave up six home runs before being demoted.
Dickey never pitched with Texas again.
"It's a tough thing to do. He took his lumps early on," said Yankees first baseman Mark Teixeira, Dickey's teammate in Texas from 2003-06. "He's made an unbelievable comeback and I'm so happy for him."
Teixeira, a switch-hitter, is 2-for-11 lifetime against Dickey. He was a .262 career hitter against former Red Sox knuckleballer Tim Wakefield.
Teixeira batted right-handed vs. Wakefield, but will hit lefty against Dickey.
Teixeira explained that Dickey throws harder than Wakefield -- mixing in a fastball now and then -- and Citi Field doesn't play like Fenway Park. Essentially, there is no Green Monster to take aim at.
"When it's on it's almost an unhittable pitch," Teixeira said of the knuckleball.
Teixeira said the key to hitting the knuckleball is making sure it's up in the zone and taking sort of an upper-cut swing, "because whether it dances left or right, it's going to be down most of the time, at the end."
Teixeira said facing a knuckleballer only affects him in that same game -- especially if he sees 95 mph immediately after.
But the next day, he'll take normal batting practice against a normal hurler -- so it's not that big of an adjustment.
Teixeira said he hasn't seen a hard knuckleball like Dickey's except when he was playing whiffle ball in the backyard.
Yankees manager Joe Girardi said he has no plans to bring in a knuckleballer to throw batting practice to his team.
"Those guys aren't really easy to find," Girardi joked. "I'm sure if it's written in the paper (Sunday), we might have a few calls, but we have no plans to do that."
• • •
Frank Francisco called the Yankees a bunch of "chickens," which prompted Tim Byrdak to bring a live one into the Mets' clubhouse before Friday's game.
Girardi was asked the best prank he ever saw as a player.
A synopsis: When Girardi was with the Yankees, Jimmy Key took Wade Boggs wild turkey hunting. They didn't shoot any. The next time they had a game, Key bought a frozen turkey and put it in Boggs' locker. "Here's your turkey," Key said.
Girardi also said he was always impressed with Ryne Sandberg's pranking ability -- from lighting teammates' spikes on fire to putting garbage outside teammates' hotel room doors.