"Little Jerry Seinfeld" left Citi Field on Sunday night, as did the New York Yankees, who weren't complaining after taking two out of three from the New York Mets over the weekend.
"Not bad for a bunch of chickens," Nick Swisher joked after the Yankees' 6-5 victory.
How long had Swisher been saving that one?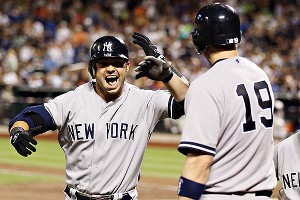 Elsa/Getty Images
Nick Swisher's three-run homer gave the Yankees a 4-0 lead in the top of the third.
"I don't know. Maybe for a little bit," said Swisher, who delivered a 423-foot, three-run home run off R.A. Dickey to give the Yankees a 4-0 lead in the third inning.
So did the win have special meaning, given that Mets closer Frank Francisco had called the Yankees "chickens" before the series began?
"I don't really care about what other people say," said Robinson Cano, who blasted the game-winning, 440-foot bomb off Miguel Batista in the eighth. "You gotta go out there and play the game."
The Yankees lost to the Mets in the series opener on Friday night, but responded with back-to-back wins.
The difference in those wins? Clutch home runs and their lights-out bullpen.
The Yankees belted four homers and their relievers combined to throw 6 2/3 scoreless innings while striking out 13.
The Yankees have now beaten some of the best pitchers in baseball this season: Justin Verlander, Felix Hernandez, David Price, Johan Santana -- and Dickey.
"I don't want to sound cocky, but we've got a pretty good lineup," Cano said.
The Yankees have struggled with runners in scoring position all season, but Swisher came through with a bang on Sunday night, taking Dickey yard with runners on first and second.
"I just tried to look for something up in the zone and got lucky on that one," Swisher said. "I've never hit a ball like that off a knuckleballer, I know that."
The Yankees led 5-2 in the sixth, but Cano's error paved the way for the Mets to tie the game.
After Lucas Duda struck out to open the frame, Cano ranged to his left for Justin Turner's grounder but couldn't come up with the ball, and the Mets went on to score three unearned runs off CC Sabathia (5.2 IP, 9 H, 5 R, 1 ER, 2 BB, 3 SO).
"That's not an error. I went to my left and the ball took a bad hop," Cano said.
Regardless, the Yankees' second baseman redeemed himself in the eighth.
Cano thought the Mets would bring in southpaw Tim Byrdak to face him, but Terry Collins elected to stay with Miguel Batista instead.
Bad idea.
Cano hit a towering blast over the Apple in center.
"I never had it in my mind that I wanted to hit it out," said Cano, who now has 16 homers, second-most on the team behind Curtis Granderson. "I was just trying to get a hit.
"It was nice to get a win. You wanna hit in situations like that to help the team get a win."
"He's been doing that all year for us," Swisher said. "Huge hit."
Francisco now finds himself on the disabled list with a left oblique strain.
Clearly, it's the Yankees who got the last laugh.