In one corner of the clubhouse, Nick Swisher did his usual laughing and smiling act as he spoke with reporters. At the other end of the room, Robinson Cano wore a huge grin. After the three-game losing streak, the Yankees are back on a roll with a three-game winning streak.
"Everything is real chill right now, real mellow," Swisher said after he and Cano went back-to-back to back Hiroki Kuroda's fine pitching in the Yankees' 7-1 win over the Indians on Monday.
The Yankees are 23-7 in their past 30 games, which includes 13 wins in their past 16. After Cano and Swisher hit their back-to-back homers in the third, they were enjoying themselves on the way to the romp.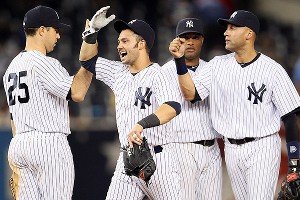 Elsa/Getty Images
Nick Swisher & Co. were all smiles after trouncing the Tribe on Monday night."We were laughing about it," Cano said.
Cano just moved to the top of the All-Star ballot for second basemen. He leads Texas' Ian Kinsler. Each has more than 3.4 million votes, but Cano has about a 15,000-vote edge. He said he would like to combine with Derek Jeter, who looks like a lock to start at short.
Swisher enjoyed the eighth inning, when he zigzagged around right field. With two men on, Swisher recorded the final three outs. A run scored, but Swisher kept the damage in check, laughing and smiling the whole time as, in his words, the crowd went "cccccccccrazy."
"Who is happier than me?" Swisher said.
Swisher has hit a homer in the past two games. On the year, he is batting .268 with 12 homers and 46 RBIs. Cano is at .302 with 17 homers and 39 RBIs. Cano's average is just less than Jeter's team-best .304.
FOUR NOTES:
Kuroda pitched well again. Joe Girardi gave him credit for his "shutdown innings" after the Yankees scored runs. He had his splitter working. When he left in the eighth, he had not given up a run. There were two men on as he walked off. The fans stood up and gave him a very nice ovation. "It is just a great feeling," Kuroda said.

Dewayne Wise -- who has played in 37 games but has just 33 at-bats -- received a nice reaction from his teammates for his two-run homer/RBI-triple night. "Everyone was just happy for me," he said. Wise said it is tough being basically a pinch runner and a defensive replacement, but he knows he can't chew out the manager. He understands his role.

Jeter needs three more hits to tie Cal Ripken Jr. (3,184) for 13th all-time. Jeter went 1-for-4. He turns 38 on Tuesday. (More on that in our First Pitch post at 7 a.m. ET.)

Mark Teixeira is OK, according to Girardi, after being hit in the right knuckles in the seventh. He stayed in the game after telling his manager he was fine. It is still something to watch for Tuesday.