His cooking space is compact, hardly the center of operations you'd expect for someone who feeds sometimes more than 100 people a night. He's been laid off from his job as a school bus driver since December, making it that much harder to continue providing for the people in Jackson Heights, Queens, as he's done for the past eight years.
Yet, none of it stops Jorge Munoz, affectionately known as "The Angel in Queens," from providing meals to those in need. The 48-year-old and his family selflessly give their time and money to make sure others don't go hungry, providing more than 700,000 meals since 2004.
"Since my childhood, my mom told me that if you share, you're OK with God," Munoz said. "I'm a man of faith. I always believe that when you do good things right here, you'll be OK."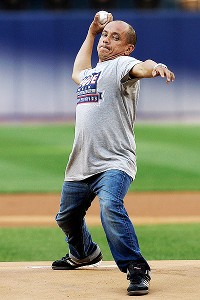 AP Photo/Kathy Willens
Jorge Munoz threw out the first pitch Tuesday at the Stadium.For Munoz's devotion to others, he was honored Tuesday by the Yankees as part of HOPE Week. The Yankees presented Munoz with a $10,000 check and helped prepare his meals, with second baseman Robinson Cano, center fielder Curtis Granderson and pitchers Boone Logan and Hiroki Kuroda lending a hand by bringing vegetable oil and rice.
"It's an honor to have them here, and it's good to know them because even though they are players, now we know that they have good hearts, too," Jorge's sister, Luz Munoz, said. "You can see it in their faces when they are cooking for them, they're happy."
Munoz, who lives in Woodhaven after emigrating from Colombia in the 1980s, started providing food after finding out that some laborers go hungry if they don't have work on a given day. In 2004, he started preparing meals each night and bringing them to the corner of Roosevelt Avenue and 73rd St. in Jackson Heights. His sister, mother and a paid employee help make and deliver the meals.
He fed 108 people on Monday and said he has had days when he's served 160. Munoz, who has about eight volunteers helping him, has missed just one day in eight years. The gift from the Yankees is crucial to Munoz's operation, as it costs between $1,000 and $1,300 a week to provide the meals, and about $450 comes out of the family's pocket. The rest comes from donations.
The Yankees helped prepare a meal of sausage, rice, lentils and potatoes. Logan and Granderson cooked upstairs with Munoz while Cano and Kuroda were in the lower kitchen of the two-story home Munoz shares with his mother, sister and nephew.
While a chicken dominated the headlines during the Subway Series -- Mets reliever Frank Francisco called the Yankees chickens and the Mets then purchased one to roam the clubhouse -- there was no poultry on Munoz's menu.
"I like chicken and I know a lot of people like chicken, so if it would have been here, it would have been great to have it," Granderson said. "Still not too sure exactly where the comment came from, but I'm still going to continue to eat it, just like a lot of people will continue cooking it."
Regardless of the menu, Munoz's work impressed the Yankees -- especially the Bombers' All-Star second baseman.
"To see how this guy goes on the street and all these people get together and then he's giving food every single day, it's amazing," Cano said. "He's spending his money, his time and his family's money. He's not working and he's still doing it. It's really impressive."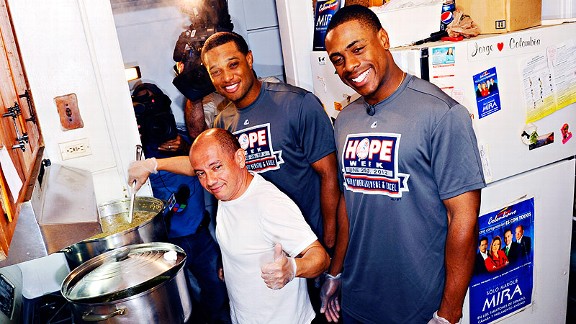 Courtesy New York Yankees
Munoz poses with Yankees sluggers Robinson Cano and Curtis Granderson.