WHAT IT MEANS: The Yankees swept the Indians and still had a terrible day. The best team in baseball won their fifth in a row and improved to a season-best 18 games over .500, but can't feel very good about it.
SCARY, BUT SUCCESSFUL SORI: In the ninth, protecting a two-run lead, Rafael Soriano loaded the bases before facing pinch-hitter Johnny Damon. Soriano struck out Damon. Then, Soriano walked Michael Brantley to force in a run. Suddenly, Eric Chavez's insurance RBI in the eighth was really important. Soriano finished it off by inducing Asdrubal Cabrera to fly out to left. It was Soriano's 17th save in 18 opportunities.
Pettitte's Place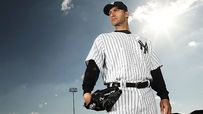 Andy Pettitte's back in pinstripes. Where does he rank among all-time Yanks?
50 Greatest Yankees

Rank 'EmOH, ANDY: Andy Pettitte took a comebacker off his left ankle and has a serious injury. Combined with CC Sabathia's leg problem, this has been a very bad day for the Yankees' starting staff. As you know, Pettitte didn't play last year. His final full season was in 2010, and it wasn't really a full season. Pettitte only threw 15 2/3 innings in the second half of 2010. It remains to be seen if he will eclipse that number.
Pettitte, 40, tried to stay in after taking the Casey Kotchman scorched shot off his ankle. After one pitch, he hobbled off and now will be gone for a minimum of six weeks.
ROBBIE ROCKETS: Robinson Cano is on fire. For those of us who predicted he would be the AL MVP this year, he is finally playing up to that acclaim. After his two-run, go-ahead home run to the opposite field in the sixth, Cano has now hit seven in the last 10 games, and 14 over his last 32. That is after he only hit four in his first 42 games. He has 18 on the year and is closing fast on team leader Curtis Granderson (21).
A-ROD DOUBLE: Before Cano's homer, Alex Rodriguez had a double. It was a soft double, but a double nonetheless. He blooped it into the right-field corner. It was only A-Rod's second double in the last 31 games. It was his seventh on the year. He usually ends up with 25 to 35 doubles during a full season. Last year, he had 21 in 99 games.
RUSSELL SHOWS MUSCLE: In the fifth, Kotchman tried to take out his second Yankee of the inning. On a bouncer to first, Kotchman came home and barreled over Russell Martin at the plate. Martin lost his helmet, but held onto the ball for the out. It couldn't have felt very good on Martin's stiff back that had kept him out of the previous three games.
COMING ATTRACTIONS: The award-winning Ian O'Connor will tell us what all the injuries mean. I will be adding to the news stories we have today on Pettitte and Sabathia.
QUESTION OF THE DAY: Do you think the Yankees now need to think about trading for a starting pitcher? Or would you go with Freddy Garcia, David Phelps, Adam Warren, D.J. Mitchell, etc.?