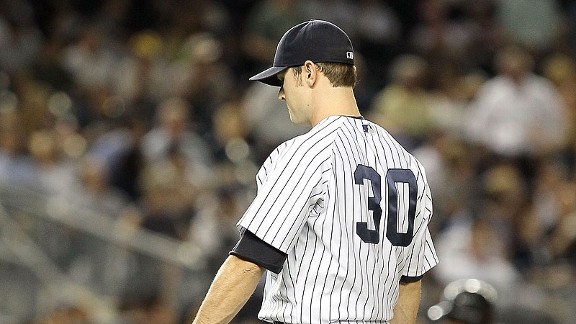 Jim McIsaac/Getty Images
After being passed over to start the ninth and then giving up the game winning three-run homer, David Robertson looked steamed in the postgame clubhouse. With Rafael Soriano unavailable, Robertson anticipated he would start the ninth inning as the closer of the night.
"I thought I was," Robertson said.
Instead the wheels fell off what appeared like another Yankees' victory as Joe Girardi decided "to mix and match" instead of entrusting Robertson with the ball.
#30 RP
New York Yankees
2012 STATS
To start the ninth, against Cody Eppley, Alex Rios singled. Next, lefty specialist Clay Rapada entered to face lefty A.J. Pierzynski. Rapda's slider forced Pierzynski to hit a weak come-backer that looked like a sure double play that would have turned Girardi into a genius. Instead, Rapada threw the ball into center.
"I thought my reaction off the ball was a little quicker than it was," Rapada said. "I didn't get my feet underneath me. I did my job as a pitcher, but not as fielder. I put D-Rob in a bad situation."
(You could argue Girardi did, which my colleague Wally Matthews will do in a column soon.)
So Girardi finally went to Robertson, who is great at escaping trouble. Girardi said he hesitated to start the inning with Robertson because Robertson hasn't been the same reliever since his oblique injury.
"His velocity has kind of not been as consistent as before he did get hurt so I'm watching him still closely," Girardi said.
Robertson said he and Girardi have had no discussions about being "cautious."
"I feel fine," Robertson said.
Dayan Viciedo nailed a three-run homer off Robertson and the Yankees' five-game winning streak ended with an unhappy Robertson.
"If it is up to me, I would prefer it," Robertson said of starting the ninth. "I've been in situations just like that and I've gotten out of them. Tonight, was just one of those nights."
Grand Slam Notes
After pitching four of the last five games, Girardi said Soriano was off-limits on Thursday

Ivan Nova saw a lot of balls hit hard against him, but as usual he used his decoder ring or something to make sure they found gloves. Nova went 7 1/3 innings allowing six hits and one run. He left to a nice ovation. He was only denied the victory because of the bullpen's meltdown. White Sox leadoff man Alejandro De Aza had four of the hits off Nova, including a solo homer.

Robinson Cano had an RBI double. In June, Cano is hitting .341 with 10 homers and 19 RBIs.

Derek Jeter tied Cal Ripken Jr. on the all-time hits list.