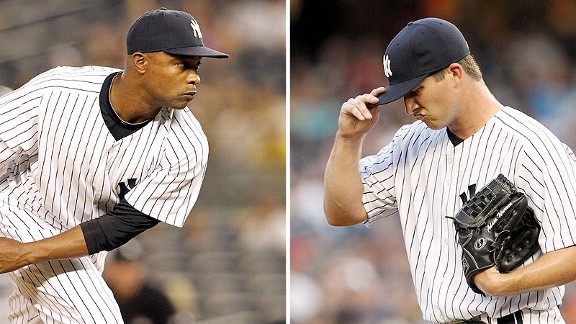 US Presswire
Outfielder Dewayne Wise pitched great Friday. Rookie Adam Warren? Not so much.By the end of Friday night, there was a memorable pitching debut. With a season-high 19 hits and 14 runs on the board and with the bullpen depleted after rookie Adam Warren had virtually nothing, Joe Girardi put in outfielder Dewayne Wise to pitch.
"He was really my last guy," said Girardi, who didn't want to use Rafael Soriano, David Robertson or Cody Eppley in mop-up. "I'd used everyone else. They weren't going to let me use (bullpen coach Mike) Harkey or K-Long (hitting coach Kevin Long)."
When Wise got to the mound, Russell Martin asked him what pitches he throws.
"I throw a fastball," Wise said.
Wise, who hadn't pitched since he was a sophomore in high school nearly two decades ago, was the best pitcher of the night. Throwing "fastballs" that ranged from a high of 82 to a low of 65, Wise retired both White Sox batters he faced.
"Everyone kind of laughed about it," Wise said after the Yankees' 14-7 loss to the White Sox.
Warren couldn't laugh after going just 2 1/3 innings and allowing six runs in his major league debut. He said he took a little time to enjoy the moments, but overall he never could find his fastball location.
"It was frustrating," Warren said.
It might turn out to be a quick stay for Warren because Girardi said the Yankees are probably going to try to add a pitcher prior to Saturday's 1 p.m. start.
NOTES
Wise became the first Yankees position player to pitch since Nick Swisher's scoreless inning in April of 2009 against the Rays. The last position player to pitch in a home game was Gene Michael in 1968. Michael threw three innings and gave up five runs in Game 2 of a doubleheader against the Angels.

Girardi wouldn't say who will start on Wednesday in Tampa, when Warren's turn would come up next. It likely will be David Phelps, who pitched well in relief, even though he got the loss. Phelps, who allowed two runs in his 3 1/3 innings, said he would be able to throw 80 pitches by Wednesday. Girardi did give Phelps an endorsement, saying, "We really think he is in our future plans."

Martin entered in the ninth on defense and missed a tag at the plate when he didn't lower his glove to the ground. Martin said it had nothing to do with his back and he expects to start on Saturday. Girardi also said he thinks Martin will be behind the plate for Hiroki Kuroda.

Girardi said that Cory Wade is not locating. Wade has been awful, giving up 13 runs in his last 5 1/3 innings. "It has been a struggle for him about the last month," Girardi said. If Wade doesn't pitch better, he is going to be re-located off the roster.