This week alone, Dewayne Wise has fooled an umpire into thinking he made a diving catch in the stands, retired the only two batters he faced during a scoreless relief appearance and gone 7-for-11 at the plate with two homers and five RBIs.
"He's doing everything for us," Joe Girardi said.
The fact that the reserve outfielder tied his career high with three hits -- including a homer and a double -- in Saturday's 4-0 win over his former team, the White Sox?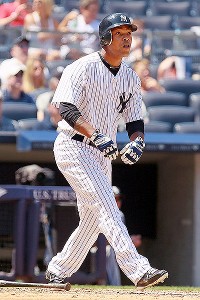 Mike Stobe/Getty Images
Dewayne Wise watches the flight of his fifth-inning homer.
No surprise there.
"It's been crazy, man," Wise said. "I'm just trying to take advantage of the opportunity and have fun."
Wise, 34, a .219 career hitter coming in, laced a two-out RBI double in the second, lined a homer to right in the fifth and cranked a single in the seventh.
Prior to his current stretch, Wise had been 4-for-30 this season. He credits hitting coach Kevin Long for getting him back in the groove.
"He's unbelievable. I'll go in there and see one thing, and he'll tell me right away, 'I think you've gotten away from doing this,'" Wise said. "It's hard when you don't know when your next at-bat is going to come."
Could Wise have pitched Saturday on short rest?
"They asked me today in the eighth inning, 'Are you ready? Can you throw the ninth?'" Wise said. "I said, 'I'm ready.' They were just messing with me."
On Friday night, Wise became the first Yankees position player to pitch at the Stadium in 44 years. He got Paul Konerko to fly out to center and Alex Rios to ground out.
Wise desperately wanted to face ex-teammate A.J. Pierzynski, but never got the chance.
"I told him I was throwing nice and easy, but if he would've come up to the plate, I probably would've been in the trainer's room today, because I was gonna try to throw as hard as I can," said Wise, who registered up to 82 mph on the radar gun. "I told him the first one I was gonna throw at his head and try to scare him a little bit."
How fast does Wise think he could bring it?
"I don't know. I think I could reach 90 if I really tried," said Wise, who was told his fastball had natural sinking action since he's a southpaw. "But I didn't want to wake up hurt."
Does he ever want to pitch again?
"No. I don't ever want to do that ever again. I felt too close. My heart was beating so fast. I thought they were going to hit one back at me," Wise joked.