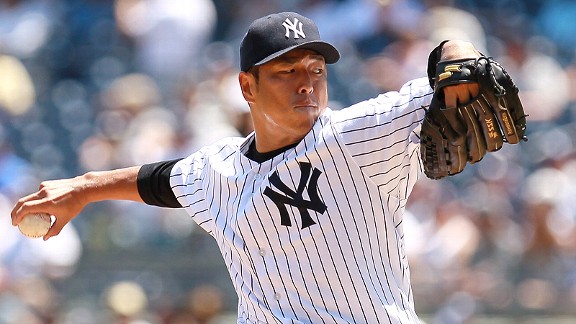 AP Photo/Kathy Willens
Hiroki Kuroda's tenure with the Yankees got off to a bad start.
Kuroda, 37, lost six of his first nine outings and pitched to a 4.56 ERA.
He's gotten a lot better since.
The Japanese right-hander improved to 5-1 in his last seven starts since May 27, striking out a career-high tying 11 over seven shutout innings in his team's 4-0 victory over the White Sox on Saturday at the Stadium, which snapped a two-game losing streak.
#18 SP
New York Yankees
2012 STATS
"I think it was just the adjustment of coming over here," Joe Girardi said of Kuroda, who signed a one-year, $10 million contract with the Yankees in the offseason. "I think sometimes when free agents come over here, they try too hard to validate things, and I think he got over that after the first month."
Kuroda (8-7, 3.17) was asked about the transition from the NL to the AL, and having to live up to the hefty expectations that come with pitching in New York.
"I think definitely there's some truth in that, but throughout my career, I've always felt that pressure, no matter where I played, so the fact that I'm playing for the Yankees didn't make any difference," Kuroda said through his translator. "I felt that pressure every year."
On Saturday, Kuroda allowed singles to two of the first four batters he faced before retiring the next 15 in a row before plunking ex-Red Sox Kevin Youkilis in the sixth.
Derek Jeter had been hit by a Jake Peavy offering in the fifth. Dewayne Wise asked Jeter if Peavy did it on purpose, but Jeter didn't think so.
Kuroda rebounded nicely, and finished off his fourth start this season in which he's thrown at least seven innings without allowing a run -- the most of any starter on the staff -- by fanning Dayan Viciedo and Alexei Ramirez after Alex Rios singled and stole second.
"He really locked into the strike zone and started locating," Girardi said of Kuroda, who featured a dominant slider to go along with his sinker and splitter.
Kuroda has thrown at least six innings in his last seven consecutive starts, and has become the team's stopper since CC Sabathia and Andy Pettitte are both on the disabled list.
"I think I'm trying to be a lot more aggressive," Kuroda said.
Kuroda's previous high for strikeouts this season was eight.
"I'm not a strikeout pitcher, so I'm kind of surprised," he said.