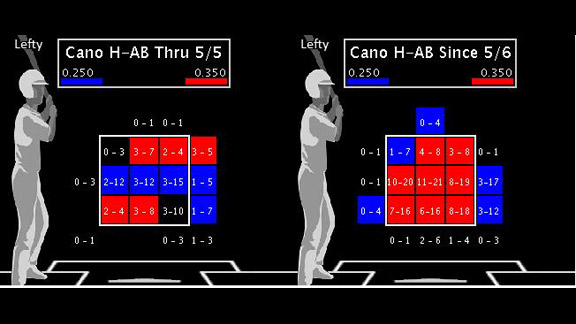 How Robinson Cano went from being a .255 hitter to being among the best hitters in baseball.Nova Stats To Watch
Ivan Nova would like to start July as he finished June (as was noted in yesterday's Yankeemetrics, he had the best ERA in a June by a Yankee in 54 years).
He may be due for a little bit of a luck reset, specifically against right-handed hitters, whom he's held to 7-for-49 in his past four starts. The opponents' batting average would be a little higher if a few line drives fell in. Of the last seven righties to hit a line drive against him, six have been retired.
Nova has been great in his two starts against the Rays this season. In fact, he's won his past four starts against Tampa Bay, with a 1.29 ERA against them in that stretch.
He's trying to become the second Yankees pitcher to win five straight starts against the Rays, allowing two runs or fewer in each. Mike Mussina was the first, doing so from 2004 to 2006.
Elias notes that Nova will make his 50th career start on Tuesday, entering the game with a 26-6 (.813) record. According to the Elias Sports Bureau, the highest winning percentage through a pitcher's first 50 MLB starts is .795 for Roy Oswalt (31-8). Nova can set the all-time mark with either a win or a no-decision.
Shields Stats To Watch
James Shields has been repeatedly victimized this season by the defense that was so valuable to him in 2011. In his past nine starts, he has a 4.71 ERA, despite a strikeout-to-walk ratio of better than 3-to-1, and having yielded only five home runs in 57 1/3 innings. He's allowed a batting average on balls in play of .368 and had six more hitters reach via error.
What Shields does have going for him is being at home. The Rays have won five of his past six starts against the Yankees at Tropicana Field. They've also beaten the Yankees eight straight at home.
The thing to watch with Shields will be the effectiveness of his changeup. The Phillies hit a pair of home runs off that pitch two starts ago and the Tigers rapped seven hits against it in his most recent appearance, the most hits allowed by him on that pitch for the four years that we have pitch data.
No Explanation Needed
With two more hits Monday, Robinson Cano is hitting .345 since May 6 and the two images above show the difference in Cano from a before/after perspective.
We had Wally Matthews show Yankees hitting coach Kevin Long those heat maps yesterday, hoping for some sort of explanation as to the difference in Cano's performance. But none was forthcoming.
"He just got hot," Long said.
Cano is scalding against the Rays, with 12 hits in his last 25 at-bats against them. The Rays did combat Cano's success with a shift and got him out with it in his final turn on Monday.
They're almost certain to use the shift again with Shields on the mound. Cano has hit 20 ground balls against Shields over the past three seasons. Of them, all but one was hit either directly over second base, or on the first base side of the bag. He has nine hits on those 20 grounders.
Jeter Meter
Elias also shared this amazing Derek Jeter note.
Jeter has 99 hits this season. He has one game remaining to become only the third major-league player in the last 80 years to record 100 hits before the Fourth of July, when he was age 38 or older on Independence Day of that year. The two men who did that over the last eight decades werePete Rose for the 1979 Phillies (100 hits, age 38 on July 4 of that year) and Paul Molitor for the 1996 Twins (110 hits, age 39).
Up now: A Matthews column on David Robertson and the implications for the Yankees if he doesn't right himself. And a blog item on The Awful Tooth about Raul Ibanez's freak dugout injury.
On Deck: Clubhouse opens at 3:40 for tonight's 7:10 p.m. start, Ivan Nova (9-2, 4.03) vs. RHP James Shields (7-5, 4.04).
Question of the day: Do you think Robertson's problems are temporary? Or has Houdini run out of great escapes? Lets us know below, and as always, thanks for reading.