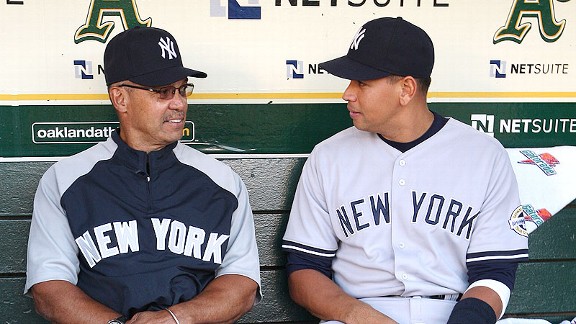 Brad Mangin/MLB Photos via Getty Images
Reggie Jackson took a swipe at his buddy Alex Rodriguez in Sports Illustrated.Reggie Jackson made his comments about Alex Rodriguez and fittingly they came in a "Where Are They Now?" edition of Sports Illustrated -- because these blasts were from the past.
This current Yankees team doesn't do this type of thing. They are nice guys for the most part, but not very fiery, at least when notebooks are around.
Reggie is from another Yankees era, as you know. He has said similar things about steroid abusers before, but he usually leaves his friends out of it.
This time, though, his slight was at A-Rod and, like most of these things, the comments, though a little sensational, don't really matter. Still, they aren't really what A-Rod needs publicly. Rodriguez, with his failing game, doesn't need more attention at the moment, when he is on pace to barely eke to the mid-20s in homers and above 70 RBIs.
Reggie was just being Reggie, but he didn't do A-Rod any favors.