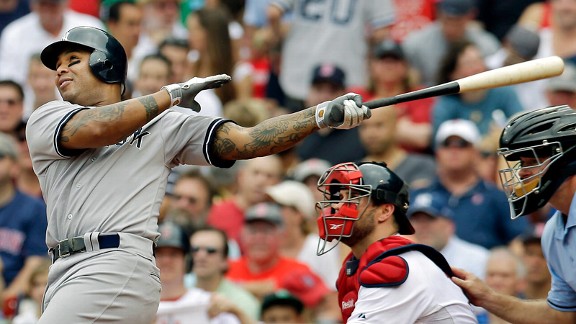 AP Photo/Elise Amendola
BOSTON -- The win on Saturday afternoon felt like it was pulled out of 2001 or something. Back then, Freddy Garcia and Andruw Jones were two of the best players in the game. They have had plenty of good seasons since, but now they are spare parts on what is currently the best team in baseball.
Nonetheless, they led the way for the Yankees in Saturday's 6-1 win over the Red Sox in the first game of a doubleheader. Garcia, looking reborn with an improved fastball, had his best start of the season, throwing 6 2/3 innings of one-run baseball. He had a simple and effective game plan.
"I tried to make it when [David] Ortiz came to the plate, nobody was on," Garcia said.
All three times Garcia faced Ortiz, there was no one on.
Garcia was way better than when he last faced the Red Sox back on April 21. He lasted just 1 2/3 innings and gave up five runs on seven hits. His next time out, Garcia only went 1 2/3 innings again, giving up six runs in Detroit and getting kicked out of the rotation.
#36 RP
New York Yankees
2012 STATS
Now, with his velocity hitting the upper 80s, which makes his off-speed stuff more effective, Garcia could be in the rotation for at least the next six weeks until Andy Pettitte returns.
"It makes my other pitches better if I have velocity," Garcia, 35, said.
Garcia picked up his first win of the season as a stater. It was his longest outing in almost a year (7 2/3 in Seattle on July 25, 2011).
Meanwhile, Jones, 35, combined for back-to-back homers twice (his partners were Nick Swisher in the first and Jayson Nix in the fourth), while adding a nice catch against the wall which led to a double play in the sixth. With 429 homers and 10 Gold Gloves, Jones may end up in the Hall of Fame. But Jones isn't thinking about that now.
"I want to help this team win a championship," Jones said.
First Game Notes:
Robinson Cano got hit on the pinkie in the first inning. He stayed in the game. Cano said he is fine and he is in the lineup for the nightcap.

Swisher's first-inning, three-run shot ended an 0-for-17 string.

Derek Jeter had three hits and has batted .393 (11-for-28) during his six-game hit streak. Another interesting stat: Jeter is hitting .353 on the road, while only .259 at home.

Cody Eppley pitched 1 1/3 scoreless innings and Joe Girardi called him the biggest surprise of the first half. Eppley has a 2.74 ERA so far.