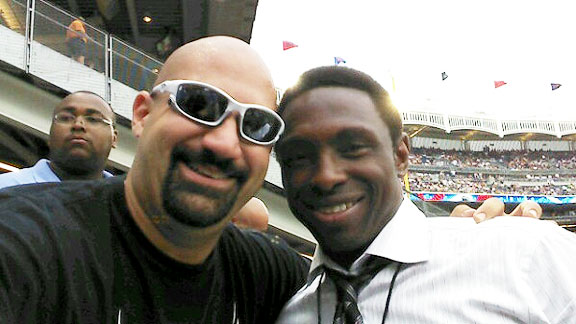 Courtesy of Bald Vinny
Bald Vinny and Brooklyn Nets coach Avery Johnson hobnob in the Bomber bleachers on Friday night.The Bleacher Creatures had a special guest in the right-field bleachers for Friday night's roll call.
Brooklyn Nets coach Avery Johnson participated in the tradition with Bald Vinny and Co. -- and the Creatures rewarded him with an "Avery Johnson" chant afterward.
Bald Vinny said that Johnson "immediately" caught on to the traditional roll call, cheering with "passion" along with the rest of the Creatures.
"Hopefully he got to blow of a little steam, get the pipes loose a little bit and do some screaming," Bald Vinny said. "I think he was into it. He sees the passion we have."
Bald Vinny also explained the Bleacher Creature's motivation to give Johnson the traditional chant at the end of the roll call.
"We just wanted to give him a little bit of New York love there at the end," he said. "We're excited that the Nets are here in Brooklyn and we had to give him a little roll call of his own. I think he was excited about that."
Joe Johnson, who was introduced to the media in the morning at Brooklyn Borough Hall, threw out the first pitch -- a strike from the mound.
Johnson told ESPN New York 98.7's Ryan Ruocco before the game that he had never played baseball before, but wasn't nervous about throwing out the first pitch.
Earlier this year, Bald Vinny (@baldvinny on Twitter) welcomed the disguised Yankees GM Brian Cashman to the bleachers to help out in the roll call.