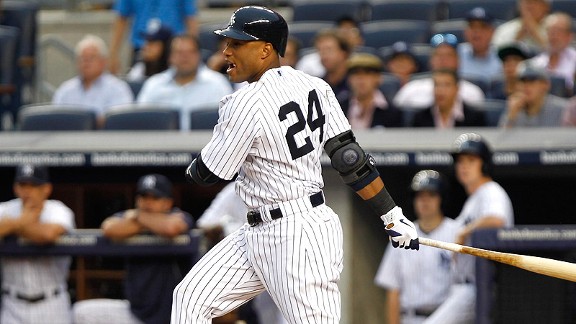 Debby Wong/US Presswire
Robinson Cano is among the Yanks still having trouble hitting with runners in scoring position.
Through seven innings on Friday, the Yankees' season-long problems with runners in scoring position were on full display.
The Yanks started the night hitless in their first eight at-bats with runners in scoring position.
The sixth and seventh innings were glaring examples of their RISP ineptitude.
In the sixth, Curtis Granderson led off with a triple but was stranded on third when Mark Teixeira grounded to third, Alex Rodriguez grounded to short and Robinson Cano lined to third.
In the seventh, Nick Swisher led off with a double and advanced to third on Andruw Jones' flyout but got no further. Martin followed with a grounder to third and Jayson Nix struck out to end the inning.
The Yanks entered play Friday hitting .231 with runners in scoring position, last in the American League.
The Yanks' eighth-inning rally put a band-aid on the RISP issue -- for one night at least.
Teixeira, who had two homers and five RBI, knows it's a problem that needs fixing.
"Obviously we need to be better with runners in scoring position," Teixeira said. "That's just a fact of the matter."
IS FREDDY READY? Our buddy at ESPN Stats & Information, Mark Simon, gives us a great breakdown of Freddy Garcia's numbers against the Angels. If recent history is any indication, Garcia should have some success on Saturday against the Los Angeles Angels.
Here's what Simon tells us: "Over his career, Garcia is 15-3 against L.A. with a 2.59 ERA in 27 starts, including marks of 5-0 in 2001, 3-0 in 2003 and 3-0 in 2006 (all with miniscule ERAs). But from the "What have you done for me lately?" department, he allowed five runs in five innings in his one start against them last season. His .833 winning percentage is the best among active pitchers with at least eight decisions against them."
This all bodes well for the Yanks on Saturday. We'll see if Garcia (3-2, 5.23 ERA) can continue his dominance against the Angels and get off to a good start in the second half.
SWISH! Nick Swisher made what you could argue was a game-saving grab in the top of the eighth. Mark Trumbo hit a deep drive to right that Swisher caught by leaping at the top of the wall. Had the ball left the yard, it would have given Los Angeles a five-run lead. The Yankees rallied for four runs in the eighth to take the lead en route to a 6-5 win.
UP NOW: Two blogs: One on Mark Teixeira's five-RBI night and one on Russell Martin, who used the All-Star break to relax and seemed to be rejuvenated on Friday night.
ON DECK: A little Saturday afternoon baseball. Can Martin continue to turn the page on what -- to this point -- has been a season-long struggle at the plate? What about Teixeira? Is he on the cusp of his customary hot second-half play?
QUESTION OF THE DAY: Where do you think Teixeira's batting average will be at the end of the year?