There are many reasons why the Yankees will take the field on Sunday with the best record in baseball.
You can point to the home runs -- 138 and counting. You can cite the deep lineup. And you can talk about the steady starting pitching.
But to stop there would be overlooking an obvious -- and extremely important -- cog in this Yankees machine: the closer.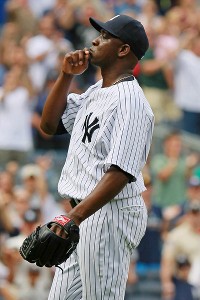 Mike Stobe/Getty Images
Rafael Soriano closed out yet another victory for the Yankees on Saturday against the Angels.
Rafael Soriano has been invaluable for the Yankees over the past two months.
He's got 22 saves in 23 chances since stepping in for the injured Mariano Rivera.
Soriano earned save No. 22 with relative ease on Saturday, shutting down the Los Angeles Angels in a 1-2-3 ninth inning to preserve a 5-3 Yankees win.
Afterward, Joe Girardi talked about the importance of Soriano.
"It's hard to say where we'd be without him," Girardi said after the Yankees improved to a season-high 21 games over .500. "After losing Mo, there's concern. And trying to replace Mo and the pressure that (Soriano) probably (has) to feel can't be easy."
Soriano, however, doesn't seem bothered by it. He has allowed just six runs in 35 2/3 innings (1.51 ERA), and has walked just 15 batters this season (two of which were intentional).
"He looks good," David Robertson said. "He's getting outs and doing exactly what he's supposed to do."
Technically, what Soriano's supposed to do is set up Rivera. In fact, coming into his second season in the Bronx, he'd actually been penciled in as the team's seventh-inning reliever, due in part to the success of Robertson in the eighth.
But Soriano moved into the closer's role in early May, shortly after Rivera went down with a torn ACL.
Actually, the Yankees handed the job to Robertson at first. But he blew a save, then went down with an oblique injury, giving Soriano a chance to close.
And the 10-year veteran hasn't blinked since.
In 22 2/3 innings since taking over as the closer, Soriano has given up just three runs. He's walked seven and struck out 23, limiting hitters to a .214 average and allowing just 1.19 runs per nine innings.
And the rest of the Yankees bullpen has been solid in front of Soriano as well.
New York boasts a bullpen ERA of 3.18 -- the fifth-best mark in the AL. Yankees relievers have also held hitters to a .236 average.
If Robertson can find his 2011 form, the Yankees will have a formidable 1-2 punch out of the pen.
And that's something not many people expected after Rivera went down.
"They've done a tremendous job for us all year long and it's been different pieces," Girardi said Saturday of his bullpen, after Robertson, Soriano and Cody Eppley combined to toss four shutout innings. "Guys have had to do different roles at different times, but I love the job that they're doing. They're ready to pitch at any time I call upon them."