Those seven innings he tossed Monday night did not come as easy to Phil Hughes as the box score may have indicated. While he scattered just four hits with three walks in the Yankees' 6-3 win, the right-hander had to grind it out over 106 pitches as he ultimately was saddled with a no-decision.
"It was a battle today," Hughes said. "I had a good fastball but I was constantly behind in counts and tried to battle back into counts and it was a little bit tough. Was a grind and I hung in there and tried to keep it close and unfortunately I gave up a lead, but the guys battled back and got a win out of it."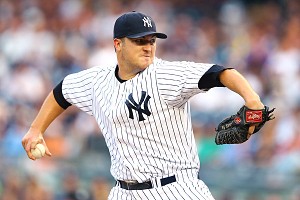 Al Bello/Getty Images
Phil Hughes pitched seven innings Monday.
Hughes, making his first start since the All-Star break, said he didn't have a good curveball and didn't use his changeup much. He relied on his fastball to get him out of trouble and said he was fortunate to be able to be able to get fly outs and pop outs in hitter's counts.
He gave up a run in the fourth and the sixth, the latter tying the game at 2-2, but worked around jams. The Blue Jays went 0-for-7 with runners in scoring position against Hughes, with the right-hander working around an one-out double in the seventh to keep the scored tied. The Yankees scored four in the eighth inning to break open the game.
With his seven innings of two-run ball, Hughes lowered his ERA to 4.22. In his last six home starts, he's now 4-1 with a 3.18 ERA.
"Just loved the way he competed," Yankees manager Joe Girardi said. "He used his fastball, his curveball and his changeup pretty effectively. He stayed away from big innings and got some big outs when he needed to. You look at him getting through that seventh inning, that was real important for us."
Entering Monday's outing, Hughes had been 9-7 with a 4.33 ERA. While he headed into the break pitching his best ball of the year -- he had been 5-2 with a 2.87 ERA in his last seven starts -- his first half had been inconsistent.
He appears, though, to be turning things around. After another solid start Monday, Hughes has held opponents to two runs or less in six of his last eight starts.
"It's a good start (to the second half). I'd like to be better, but it certainly wasn't a bad outing," Hughes said.
"If this can be the low end of my second half, that would be great. I just have to make sure I don't have any of those really bad outings that sort of creates those ups and downs. Just try to make sure I'm at least solid and give us a chance to win."