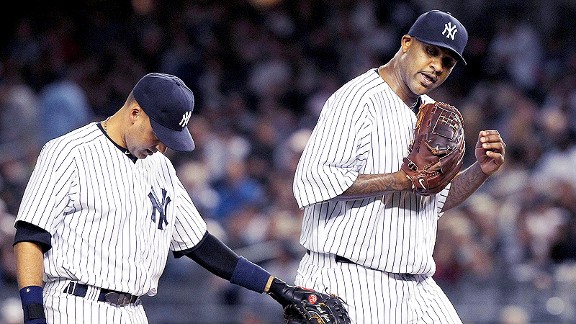 Brad Penner/US Presswire
Will CC Sabathia light up the second half for the New York Yankees?As CC Sabathia prepares to make his return from the disabled list on Tuesday, he enters his outing against the Toronto Blue Jays with stats slightly off from his first three years in pinstripes. Sabathia's ERA, WHIP and hits allowed per nine innings are all higher than he's posted so far as a Yankee.
The ace has been known to turn it up in the summer. But can the Yankees expect a healthy CC to do it yet again this year?
Perhaps CC was ready to hit his groove had he not experienced a left groin strain that sidelined him right after June 24 start against the New York Mets. If so, he still has plenty of starts left over the course of the summer to get on a roll.
While Sabathia may not have been his usual self in the first half, to his credit, he still was able to notch a win in 60 percent of his starts. If he's able to get in another 15 starts this year and post reciprocal stats, finishing 18-6, the Yankees would surely sign up for that.
Having seen the way he has pitched in the past, though, the Yankees know there's another gear that Sabathia can kick it into, especially around this time. Will today begin that elevation?
QUESTION OF THE DAY: Do you expect Sabathia to go on his usual second-half tear over the course of the next few months?
UP NOW: Wallace Matthews writes about Raul Ibanez's big night that included the go-ahead grand slam in the Yankees' 6-3 win. I wrote about Phil Hughes' battle versus Toronto that left him with a no-decision.
ON DECK: Mark Simon will post a What 2 Watch 4 later this morning. The Cash Register will be posted in the morning as well, keeping you updated on all the former Yankees. Matthews will have you covered in the clubhouse. Be sure to keep checking ESPNNewYork.com for all of your Yankees updates -- and thanks for reading.