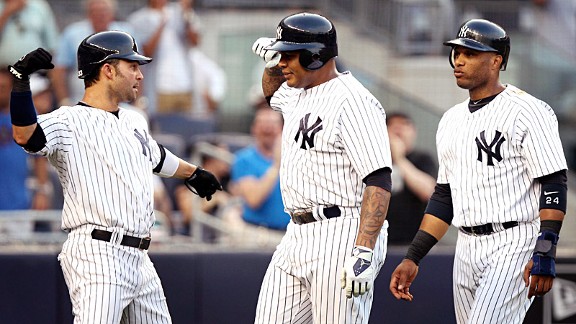 AP Photo/Seth Wenig
Andruw Jones (center) ripped a three-run homer in the second inning.The Yankees signed Andruw Jones last year to do one job, and one job only, and they re-signed him this year to do the same job.
They weren't really interested in his 10 Gold Gloves as a center fielder or his ability to play every day, as he did when he was a young and healthy Atlanta Brave. All they wanted him to do was to crush left-handed pitching when called up on to do so.
This was mostly supposed to be done as a designated hitter, since Jones' knee has not been right since 2008 surgery as a member of the L.A. Dodgers. But when Brett Gardner went down with an elbow injury just nine games into the season, Jones was thrust into a different role, half of a left-field platoon with Raul Ibanez, an arrangement that was supposed to be temporary but has now lasted 81 games, a full half-season.
And for the most part, Jones has given them what the Yankees asked for. Last season, he batted .286 with eight homers and 25 RBIs vs. lefties. This year, he hasn't been quite as good, hitting just .242 with seven of his 12 HRs and 13 of his 25 RBIs against lefties.
But over the past month, Jones has really shown why the Yankees brought him back at the relatively bargain-basement price of $2 million, plus performance bonuses. Since June 22, Jones has hit .379 (11-for-29) with five home runs vs. left-handed pitchers.
Tuesday night, Brett Cecil was the unfortunate portsider victimized by Jones, who hit a 2-1 changeup into the left-field seats, a three-run bomb that provided all the support CC Sabathia needed in the Yankees' 6-1 win over the Toronto Blue Jays.
"I'm feeling really good at the plate," said Jones, who now has 432 career home runs, passing Cal Ripken Jr. on baseball's all-time list. "I'm getting pitches and not missing them."
The changeup Jones hit -- down and away -- was probably Cecil's only mistake of the night. He finished up allowing just six hits and those three runs in six innings of work.
And on Wednesday, Jones gets another chance to punish a lefty when Ricky Romero takes the hill for Toronto in the 1:05 p.m. series finale. In his career, Jones is just 3-for-18 vs. Romero, but he has been a different hitter over his past 16 games. "I just been working hard, making little adjustments here and here, and waiting for my chance to play," Jones said. "And Joe (Girardi) kept believing in me and giving me the chance to go out there and improve."
Now, with Gardner's injury showing no signs of healing, it is likely the left-field tag team of Jones and Ibanez, which has combined for 24 home runs and 65 RBIs, will continue for the foreseeable future. It is an arrangement that Jones says he welcomes -- with one important disclaimer.
"If my legs are feeling healthy, I would rather play left field because you feel more in the game," he said.
Asked if his legs felt healthy, Jones said, "Not 100 percent, you know what I mean? My knee's still rehabbing. It's going to take a while, you know? Hopefully by the time the playoffs get here, it's ready."
Since the surgery was four years ago, that is highly unlikely. Still, Girardi said after the game that even if the news on Gardner is bad -- he underwent an MRI on Tuesday which will be read by Drs. James Andrews and Tim Kremchek before the Yankees announce the prognosis -- he felt comfortable with Jones and Ibanez in left and Dewayne Wise serving as the backup center fielder for Curtis Granderson the rest of the way.
"Andruw's been a complete player and he still plays good defense out there. I'm very pleased with what he's done," Girardi said. "I feel comfortable with what we have. We're just going to have to go out and do it."
Jones, of course, knows that his role in the outfield could change at any time, especially with the July 31 trade deadline looming. "I'm not Brian Cashman so I don't know what he's going to do," Jones said of the Yankees' general manager. "This is a business and if he feels he needs to go out and get somebody to help the team that's his decision. After that, all I have to do is keep working hard."
At smashing lefties.