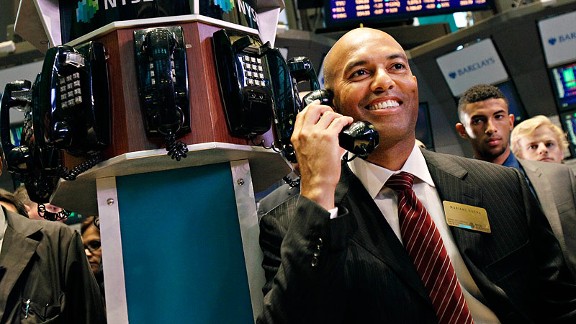 AP Photo/Richard Drew
Yanks fans want him back on the mound, but Mariano Rivera looks right at home on the trading floor.Well, not really, but bear with us.
In what is a longtime tradition at the New York Stock Exchange, Mariano Rivera was invited to ring the opening bell on Wall Street this morning. The Yankees' future Hall of Famer also posed for some pictures, including the pretty classic one above.
Great stuff. So where exactly did Mo go wrong? Well, actually you shouldn't blame Mo for any faux pas -- blame Wall Street.
Why didn't Rivera -- Major League Baseball's all-time saves leader -- ring the closing bell?
We figure the answer -- besides the obvious "it's just the way they do things" response -- is that he had to be in the Bronx today to cheer on his team ... but we'd have loved to see them break the mold for Mariano, just like the baseball gods did 42 years ago.
UPDATE: We hear from the Yankees that Mo was indeed permitted to bang the closing gavel while at the podium. So we guess Wall Street is mostly off the hook ... this time.