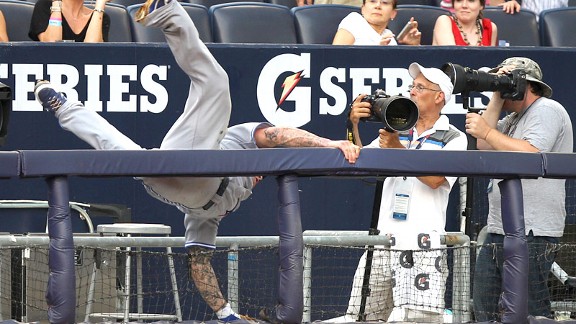 AP Photo/Seth Wenig
A-Rod got booed, but Brett Lawrie's Wednesday wasn't any better.Alex Rodriguez heard cheers on Wednesday afternoon -- Bronx cheers.
Rodriguez committed his sixth error of the season in the first inning, when he airmailed a throw to Mark Teixeira that went into the stands. Then, in the sixth, he couldn't handle a slow roller off the bat of Yunel Escobar, which fortunately for A-Rod was scored a single.
So when Rodriguez caught Cody Rasmus' easy popup, the crowd of 45,986 mockingly let him have it.
"He made the one error. He doesn't really look uncomfortable," Yankees manager Joe Girardi said. "He made a bad throw today, that's the bottom line. I don't really think he gets the other guy on the play, it's really a do-or-die play. But he doesn't look uncomfortable to me, no."
Rodriguez went 0-for-3 in the Yankees' 6-0 victory over Toronto, and is hitting .267.
OUCH: All Mark Teixeira could do was grimace.
In the third inning, Teixeira hit a foul popup down the third-base line.
Blue Jays third baseman Brett Lawrie nearly made an improbable flying catch, but ended up falling hard into the camera well and injuring his right calf. Luckily, X-rays proved to be negative, and Lawrie was listed as day-to-day with a contusion.
"I saw him go down, and then I just heard a really loud crash," Teixeira said. "You really worry about about a guy's neck, head and back. You never wanna see someone get hurt on a play, especially, when you're involved, you kinda feel somewhat responsible.
"I heard that it's just a contusion and I'm just glad he wasn't seriously injured."
The Yankees first baseman went 2-for-3 with his 19th homer -- a two-run shot in the first.
Teixeira is hitting .326 with six homers and 19 RBIs in July.
CANO KEEPS GOING: Robinson Cano extended his career-high hitting streak to 21 games, the longest active streak in the majors and the longest by a Yankee since Derek Jeter hit safely in 25 games from Aug. 20 to Sept. 16, 2006. Cano is hitting .402 during the stretch.