OAKLAND, Calif. -- It is baseball's ultimate half-empty, half-full question.
If a team's bats go silent for a few games, is it good pitching or bad hitting?
Considering the Yankees are one of the highest-scoring teams in baseball, and considering the A's lead the American League in ERA by a healthy margin, the answer is simple. At least it's simple to the guys in Yankees' clubhouse.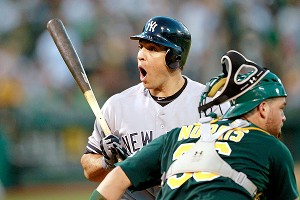 Cary Edmondson/US Presswire
Mark Teixeira isn't surprised to see A's pitchers throwing strikes, but this call caught him off guard.
"It's disappointing, but you've got to give them credit," Mark Teixeira said after the Yankees' 2-1 loss on Saturday night in Oakland, their third consecutive lackluster offensive performance. "We've been scoring a lot of runs, so you're almost due for a couple days when you aren't scoring. It doesn't make it any easier."
The Yankees have scored six runs in the three games, including just three runs in 21 innings against three Oakland rookie starters: A.J. Griffin, Tommy Milone and Jarrod Parker. Parker, who gave up one run in eight innings on Saturday night, was the best of them all.
"Very good," Teixeira said. "He kept the ball down, kept you off balance with that changeup to lefties. He could get 95 miles per hour when he wanted it and if he needed a ground ball he'd throw that 92-mile-per-hour sinker. That's really good stuff."
Robinson Cano, whose 23-game hitting streak came to an end at the hands of a couple rookies -- 0-for-3 against Parker and a ninth-inning strikeout against Sean Doolittle -- echoed Teixeira's option.
"(Parker) had a good changeup and he was throwing 95," Cano said. "Those are the kind of guys you don't want to be late (on) and you don't want to be out front."
The constant throughout the three games has been the way the A's pitchers have pounded the strike zone. They didn't issue a single walk in the first two games of the series, a remarkable accomplishment against the Yankees' patient hitters. So on Saturday night the Yankees came out swinging, and they just got themselves into trouble.
Parker got six Yankees to put the first pitch in play, and he got six outs on those balls. Derek Jeter singled to lead off the game, but the other five players went hitless. Russell Martin came up with two on and one out in the second and hit a first-pitch fastball into an easy double play. In the sixth, Teixeira came up with two outs and a runner in scoring position, and he also hit a routine groundout on the first pitch.
"This team has always thrown strikes," Teixeira said. "It's probably something they teach in the minors. I've been playing this team for 10 years. When the young guys come up, they always throw strikes. You don't see a lot of 3-1 counts. You don't see many guys get on via walk. That's why every year they have a top pitching staff."
Manager Joe Girardi also was quick to say it was the Oakland pitching that has been the key in this series.
"Our bats will eventually wake up," Girardi said. "They've thrown the ball well. I don't want to take anything away from them. Sometimes you are going to run into good pitching."