OAKLAND, Calif. -- If you were surprised to see someone hit a home run against Rafael Soriano, who hadn't allowed one all year, so was Soriano. Even after the ball was in the air.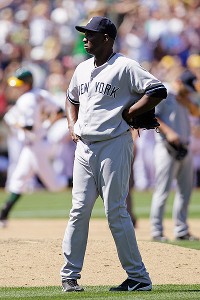 Win McNamee/Getty Images
Soriano stares straight ahead as Seth Smith rounds the bases.
"I didn't think the guy hit it that good," the Yankees' closer said of Seth Smith's game-tying homer in the ninth inning of Sunday's 5-4, 12-inning loss to the A's.
"I thought it was a popup."
It wasn't a popup. It was a homer to dead center field, and it hung a blown save on Soriano for the second time all year. Soriano said he was trying to throw a lower slider to Smith, but he apparently left it up too much.
"Everybody has a bad day," Soriano said. "Today was the second time. ... I'll come back tomorrow and go 1-2-3."
Throughout the Yankees' clubhouse, they were willing to give their closer a pass on this one.
"He's been outstanding," Derek Jeter said. "He's pretty much automatic. We wouldn't be where we are now if not for how he's throwing the ball."