OAKLAND, Calif. -- To hear Mark Teixeira tell it, the Coliseum grounds crew had a hand in the A's victory over the Yankees on Sunday.
Teixeira, who played most of his career in the American League West before signing with the Yankees in 2009, said the infield in Oakland is notorious for what happened in the 12th inning. A bad hop got past Derek Jeter to set up the deciding run in the A's 5-4 victory.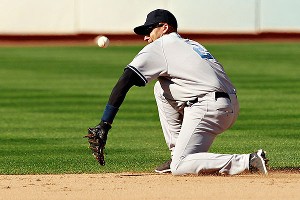 Cary Edmondson/US Presswire
Derek Jeter, a Gold Glove shortstop, couldn't make this play in the 12th inning.
"This field has always, for day games, been very hard," Teixeira said. "They do a good job watering it the first few innings, but the with dry air, the sun bakes it. The second half of the game, especially when you go into extras, it's like a parking lot the last few innings."
Manager Joe Girardi simply said "there were some tricky hops on the infield today."
A's catcher Derek Norris hit a grounder to the right of Jeter, who had been off most of the day before entering in the ninth for defense. The ball skipped on him and deflected off his glove, for an infield hit.
"It kicked up," Jeter said. "That's it. It hugged the ground the whole way and bounced up the last minute."
The A's sacrificed Norris to second and then he scored the winning run on Coco Crisp's single.