OAKLAND, Calif. -- The Yankees are supposed to be the team that rolls over opponents. They are supposed to be the ones getting all the big hits and making all the big pitches and coming out on the right end of four-game sweeps.
This was not supposed to happen.
As the Yankees packed their bags for Seattle following Sunday's 5-4, 12-inning loss and a four-game sweep at the hands of the A's, they did so with a large portion of frustration -- and a touch of admiration -- but little anger.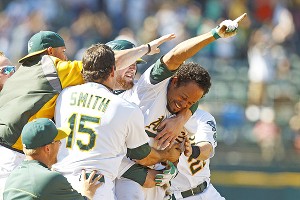 Jason O. Watson/Getty Images
The Yankees had to watch while Coco Crisp and the A's celebrated.
"When you are playing well, you don't expect to even lose a series," Mark Teixeira said. "We've been playing some really good baseball. It's very disappointing to lose four in a row."
Teixeira spoke in the calm, measured tones that you'd expect from a veteran-laden club with the best record in baseball. Yes, they got swept in a four-game series -- for the first time since 2003, by the way -- but they were swept by a team that was playing well before the series began, a team with the best ERA in the league.
"We just need to score more runs," Teixeira said. "It would be one thing if guys are going down left and right and giving up a ton of runs and getting our butts whipped. We're just one or two hits away each game from being where we need to be."
From Derek Jeter's perspective, the Yankees just ran into a hot team.
"We were playing pretty good coming in here," he said. "Those guys have been playing good. They beat us four games. They were playing well and they continue to play well. They are playing with a lot of confidence."
The A's rallied from a four-run deficit in the fourth inning, tying the game on Seth Smith's homer against Rafael Soriano in the ninth and winning it in the 12th. It was the A's major league-leading 11th walk-off victory, including six in their past 11 home games.
"We ran into a green machine over there," Alex Rodriguez said. "Those guys are playing good baseball. Everything they are doing is working well. They got an infield hit and a one-out sacrifice, which you don't see very often, and a first-pitch base hit. That kind of epitomizes the way they are going."
Of course, it was not just a matter of bad luck and a hot opponent for the Yankees in this forgettable weekend. They had plenty to look back on and shake their heads, especially on Sunday.
Shortstop Jayson Nix, who started to give Jeter a day off, made a crucial mistake in the sixth. He couldn't get the ball from his glove to his hand quickly enough, costing the Yankees an inning-ending double play and allowing the A's to score a critical run.
"When you don't make a play that should be made, it's frustrating," Nix said.
They didn't capitalize offensively in the normal fashion. In the third, when they scored three runs, they still had two on and one out and couldn't push home any more runs. In the 10th, Jeter took a called third strike to strand two runners. In the 12th, Teixeira got to second on a fly ball that Josh Reddick dropped. The Yankees had the heart of the order up against Jerry Blevins, but they couldn't even get Teixeira to third, let alone home.
"When we are playing really good baseball that's almost an automatic run for us," Rodriguez said. "Then the opposite is they get an infield hit, a sacrifice and a base hit. Give those guys credit."